Smart electrical outlets that can be moved around your home, charge most of your devices and at the same time look good while doing all of those things.
During these work from home-times many of us have spent an increasing amount of time in our homes. Also, we tend to use our digital devices more and more and therefore we need to charge our devices – all around our homes. That is where we need electrical outlets that not only let us charge all of our devices, but hey also need to look good and be practical. Here are two different moveable outlets that tick those boxes. Because, honestly, cables and wires all in a mess, can really be an eye-sore, so here are two better options.
I de här märkliga tiderna har många av oss arbetat hemifrån och spenderar mycket mer tid hemma än tidigare. Dessutom använder vi våra digitala prylar mer och mer och därför behöver vi ladda våra prylar – på olika ställen i vårt hem. Därför behöver vi eluttag som inte bara låter oss ladda alla våra prylar, men de behöver även vara praktiska och samtidigt vara estetiskt tilltalande. Här är två flyttbara eluttag som svarar mot de kraven. Sladdar och kablar i en enda röra är ju helt ärligt inte roligt att se, så här är två bättre alternativ.
Avolt's Square 1 USB is a simplistic-looking outlet with USB-charging possibilities. On three of its sides there are regular EU-style outlets, on the fourth is the electrical cord that connects to a regular outlet. On the same side are two USB outlets, type A. The fifth side has a magnet so that the outlet can easily can be attached to any magnetically surface in your home. Somewhere nearby in your home you might have a table trestle or table legs out of metal, a radiator that you can cling the outlet onto while it is needed, where you are.
Avolt's Square 1 USB är ett stilrent eluttag med möjlighet till laddning via USB. På tre av sidorna sitter det eluttag, på den fjärde sidan sitter sladden som man kopplar in i ett eluttag. På samma sida finns två USB-uttag av typ A. Den femte sidan har en magnet så att eluttaget enkelt kan sättas fast på vilken magnetisk yta som helst i ditt hem. Någonstans i närheten av dig har du kanske ett bordsunderrede eller bordsben i metall, eller ett element där det går att sätta fast eluttaget med magneten så att du har det var du än behöver det i ditt hem.
The Square 1 USB outlet comes in three shades, light grey, pink and black. The different hues can make it easier to integrate the outlet in your home decor.
Eluttaget Square 1 USB finns i tre färger, ljusgrått, rosa och svart. De olika nyanserna kan göra att eluttaget lättare passar in i din inredning.
Images of the Avolt Square 1 USB outlet come from Avolt.
Bilderna av Avolt Square 1 USB outlet kommer från Avolt.
Another great alternative comes from Schneider Electric. It is their Table Unit S that comes with both old fashioned USB A but also USB C.
Ett annat bra alternativ kommer från Schneider Electric. Det är deras bordsenhet S som har både vanliga USB A, men också USB C.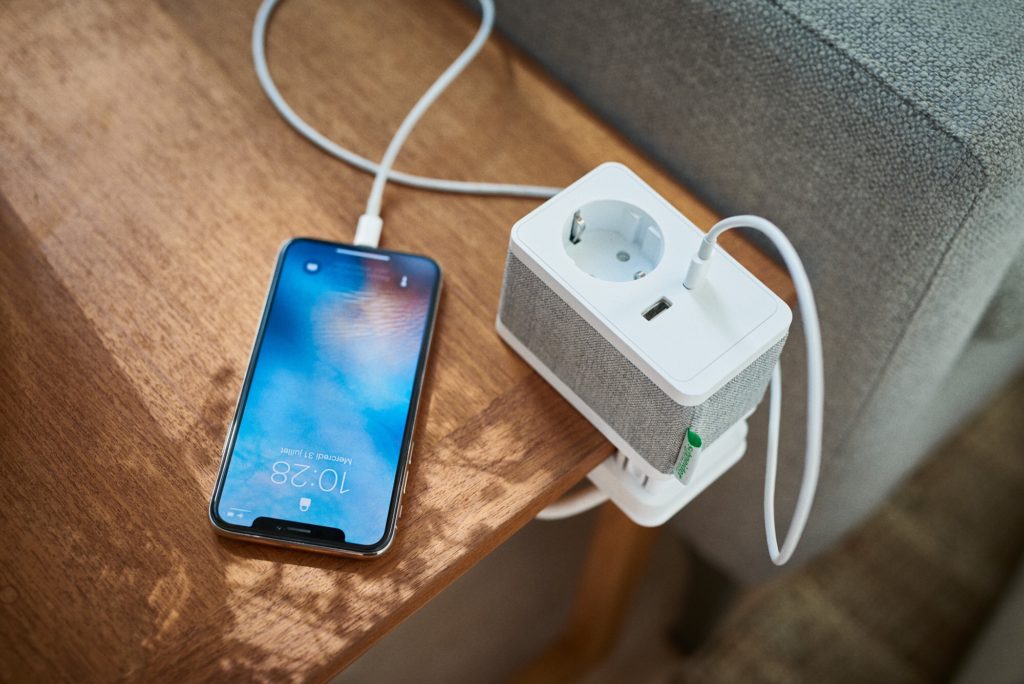 Of course, it has a regular power outlet, which is always practical, but having both the traditional USB A and the increasingly ubiquitous USB C gives it a really all round purpose. With the newer USB type C you can charge more power hungry devices, even a laptop. The Table Unit S has a clamp that lets you fasten it to the edge of a table or a shelf. Connect the textile-clad electrical cord to your outlet and fasten the clamp where you need it. As you move around in your house you just take it with you and set it up to where you want to use it for the moment.
Det har givetvis ett vanligt eluttag, som ju alltid är praktiskt, men att det har både den gamla USB A och den alltmer vanliga USB C gör den mycket mer användbar. Med den nyare USB C kan man ladda även mer krävande prylar, exempelvis även en bärbar dator. Bordsenhet S har en klämma så att man kan fästa eluttaget på kanten av en bordsskiva eller en hylla. Koppla in den textilklädda sladden och fäst klämman där det passar dig. När man rör sig i huset är det enkelt att flytta med sig eluttaget och fästa det där man behöver det för tillfället.
All images of the table unit S kommer från Schneider Electric.
Alla bilder på bordsenhet S kommer från Schneider Electric.