Ett ställe som vi återkommer till och har gjort så de senaste fem åren är Karnelund. Det är en krog & värdshus som ligger i Gislöv på Österlen, cirka 6 km sydväst från Simrishamn. Det känns som att komma hem när man kommer dit och där finns en stillhet och ett lugn som jag tycker om. Ägarna Peter och Jan är fantastiskt trevliga, de finns alltid på plats med ett leende på läpparna och med tips på platser att besöka i närheten. Även den övriga personalen är otroligt trevliga och erbjuder många glada skratt och god service.
A place that we always come back to and have been doing so for the last five years is Karnelund. It is a tavern and inn and is approximately six kilometres southwest of Simrishamn in the south of Sweden. Every time we come there it feels like coming home, it feels so still and calm and I love that. The owners, Peter and Jan, are so nice and it feels like they are there all hours of the day with a smile on their lips. If you want to they can give you recommendations of nearby places to see. All the rest of the staff are great to and we have had a lot of great laughters with them during our visits.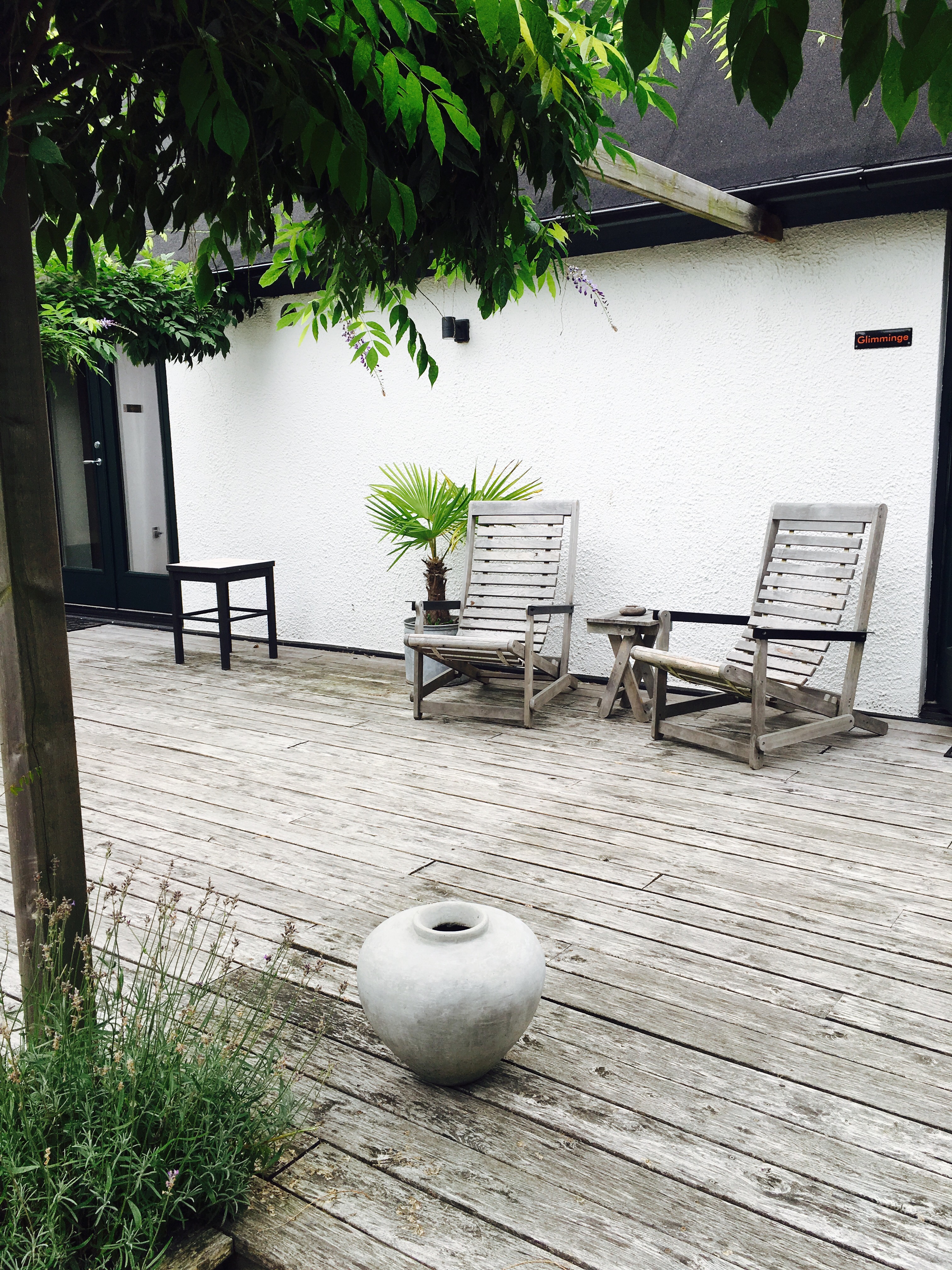 Utomhusmiljön är så vacker och har en skön medelhavskänsla. Utanför annexet finns det här vackra soldäcket med pergola där varje rum har egna stolar utanför så att man kan njuta av de sköna sommarkvällarna. Vid huvudbyggnaden finns en vacker stenlagd innergård med fikonträd och en underbart platanträd som ger ett tak. Där äter man sin fantastiska frukost på morgonarna som består av hemlagade marmelader, gott bröd, frukt, ja och allt man kan önska sig.

Outside the place has such a nice Mediterranean feeling. On one side of the annex there is a large deck with a beautiful pergola, every room has its own little space with chairs on the deck to enjoy the warm summer nights. At the main building there is a gorgeous courtyard with fig trees and a platan tree as a roof over it. Here we eat our breakfast in the mornings which is great with nice bread, homemade marmalade, fruit, and well anything you can wish for.
Rummen är mycket smakfullt inredda med nytt blandat med gammalt och med en vacker elegans. Golven är av polerad betong och väggarna putsade i vit eller vitmålade. Vi har bott i tre olika rum och de är alla vackra på sitt sätt. Det här bor vi i nu och det har sovrum nere med badrum och tv-rum uppe på loftet.
The rooms have been decorated in such great style, the floors are in polished concrete and the walls are rendered in white or white washed. The furniture are a perfect mix between vintage and new. We have stayed in three different rooms and all of them were different and beautiful. This one is the one we are staying in now, it has a bedroom and bathroom downstairs and a mezzanine that functions as a tv room/living room.
Den här gången var det första gången som vi besökte deras omtalade restaurang och den var mycket bra. Vi åt en trerätters meny med vinpaket och det var perfekt avvägt. Vinerna kompletterade maten väldigt väl och maten var mycket god.
This was the first time that we visited their highly recommended restaurant and it was very nice. We hade a three course meal with the wine package and it was really nicely put together. The wines complemented the food in a great way.
Gislöv ligger väldigt vackert med en underbar utsikt över både de vidsträckta fälten och havet. Bara några steg utanför Karnelund så är man ute vid de vackra rågfälten och de öppna landskapen. Som ni nog har förstått så kan jag verkligen rekommendera ett besök till Karnelund när ni vill ha en romantisk och vilsam helg med er kärlek.
Gislöv is very beautiful with views over both the ocean and undulating inlands over the fields. Just take a few steps outside Karnelund and you are by the golden fields of rye and the beautiful open landscape. As you probably have understood by now I can really recommend Karnelund for a relaxing and romantic weekend with your love.