Trä är ju ett så vackert material som är fullt av liv och ger ett så mjukt intryck. De flesta drömmer om att bo i ett trähus, ha trägolv och de flesta av oss inreder med möbler i just trä. Vi har inte så mycket möbler i trä hemma hos oss, matmöblerna och skrivbordet är i trä liksom ett juvelerarskåp som vi har i sovrummet, annars är det en mix med glas, läder, stålrör, plast och stoppade möbler. Däremot är min favoritstol i trä och det är Hans Wegners Y-stol där det noggrant sandpapprade träet ger ett så mjukt och vackert intryck.
Wood is such a beautiful material, full of life and so soft to the touch. Most of us dream of living in a timber house, having wooden floors and interiors made of wood. We do not have a lot of furniture in wood in our house, just the dining furniture, a desk and a cabinet from a jewelry store in the bedroom. We have a mix of furniture made of glass, lucite, steel, leather, plastic and upholstered furniture. My favorite dining chair is actually made of wood and it is Hans Wegners Wishbone chair that feels so soft with the smoothly sandpapered wood, which makes it so beautiful.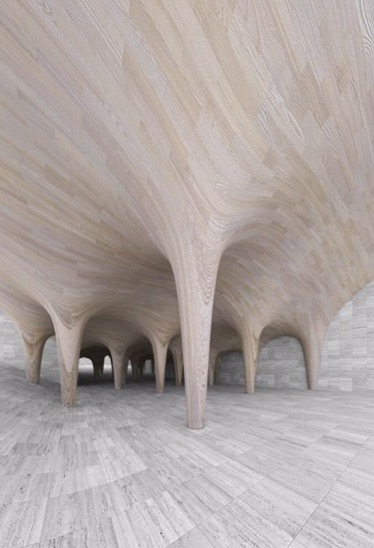 Det är så vackert när arkitekterna går "all-in" med trä, förslaget till Guggenheim museet i Helsingfors är ett bra exempel på det. Jag älskar det välvda innertaket som flyter ner i de avsmalnande pelarna. Det väcker en fantastisk känsla av förundran, hur kan dessa smäckra pelare hålla detta stora tak uppe?
I also love when architects go all in on wood, like in the proposal for the Guggenheim museum in Helsinki which is a good example of that. The curved inner ceiling that descends in tapered pillars gives it such a beautiful feeling of wonder, how can those pillars carry the weight of that big ceiling?
Även Operahuset i Oslo har mycket trä i sin interiör, den hårda snygga utsidan av sten och glas och insidans kärna som består av stavar av trä ger en så vacker kontrast av kallt och varmt. Jag tycker väldigt mycket om den här typen av arkitektur och hoppas att vi får ser ännu mer av det framöver och lämnar vårt traditionella tänkande, särskilt här i Sverige där man oftast går på det traditionellt tråkiga när man bygger.
Also, when we visited the opera house in Oslo it had a lot of wooden elements inside the building. The contrast between the hard outside with a lot of stone and glass and then inside the house middle core is mostly made of wooden rods which makes it feels very warm. I love this architecture and hope that we see more of it in the future and leave our traditional thinking, that still is so strong in new buildings in Swedish cities today.