En konstnär som jag precis upptäckte i somras är Olafur Eliasson och det var kärlek vid första ögonkastet! Det första jag såg var Beauty som han gjorde 1993 och som finns på Aros Konstmuseum i Århus i Danmark. Den var så vacker, som ett fint och stilla regn och ljudet gjorde att man kände ett lugn av att vara i rummet.
An artist that I just discovered this summer was Olafur Eliasson and it was love at first sight! The first I saw of him was Beauty from 1993 at Aros museum of art in Aarhus, Denmark. It was so beautiful and was like a very fine rainfall and the sound made you feel calm and really just standing there and watching and listening like meditation. 

Olafur Eliasson föddes i Köpenhamn 1967 och har en gedigen utbildning bakom sig. Hans installationer är ofta stora och han känns som en konstnär utan begränsningar. För att kunna genomföra många av sina projekt har han ibland tagit hjälp av arkitekter.
Olafur Eliasson was born in Copenhagen 1967 and has many years of education behind him. His installations are often grand and he feels like an artist who doesn't feel any limitations. For some of his projects he has consulted and worked with architects to make sure that it will work.
Your Rainbow Panorama upplevde vi också i somras i Århus i Danmark på Aros Konstmuseum. Det var en av de största konstnärliga upplevelser jag jag haft, det kändes verkligen som att få gå inne i en regnbåge.
We experienced Your Rainbow Panorama this summer in Aarhus at Aros and it was one of the greatest artistic experiences I have ever had. It really felt like walking inside a rainbow. 
Det var en dröm att fotografera där inne och se Århus i alla dessa olika färger. Man kunde verkligen gå runt där inne länge länge och alla uppskattade det, både barn och vuxna.
It was a dream to take pictures in there and to see Aarhus in all the different colours. You can really walk in there for a long time and everyone likes it, both children and grown–ups.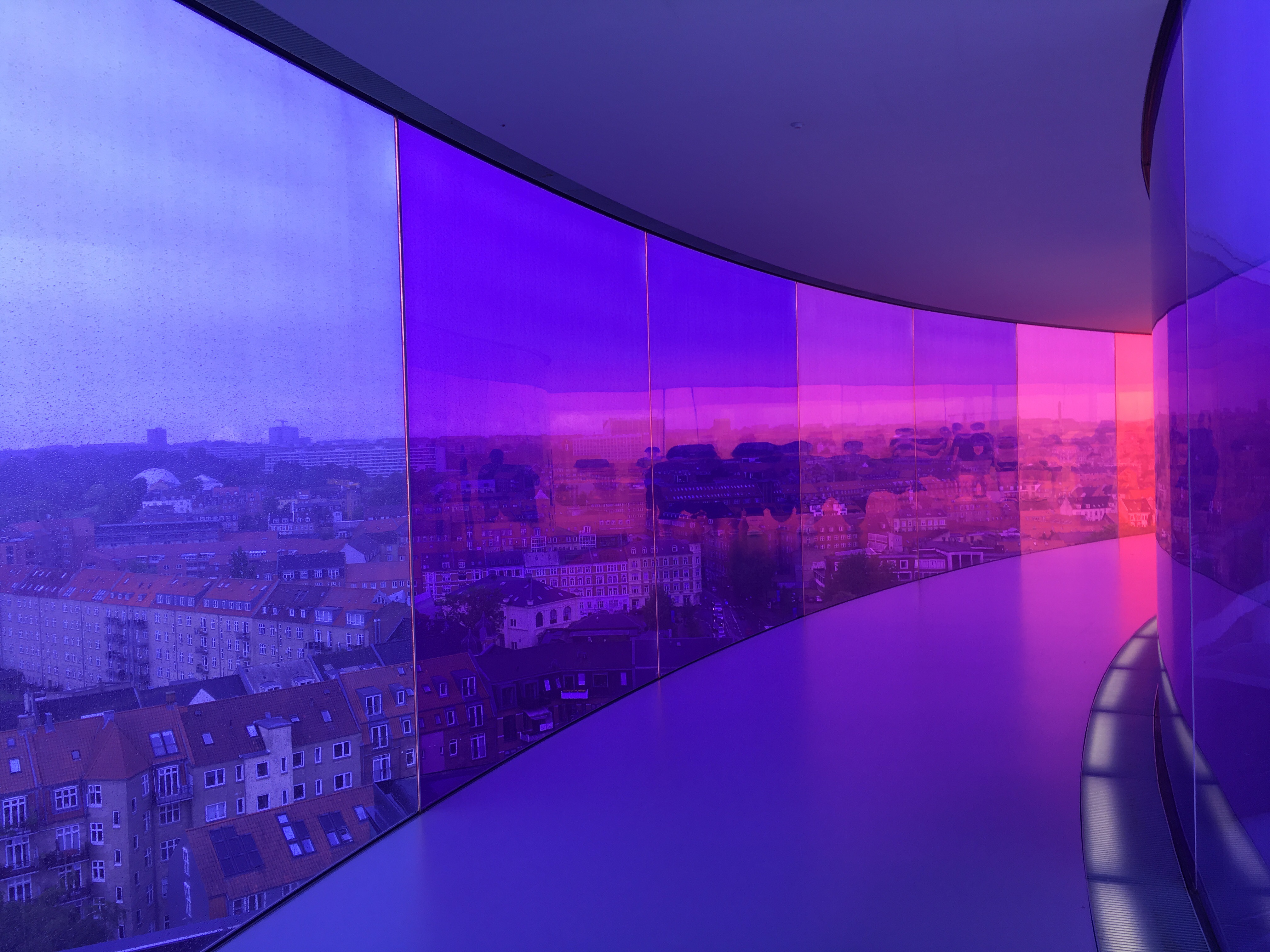 Vaer i Vejdret eller weather the weather är ett konstverk som står i trädgården hos museet Ordrupgaard utan Köpenhamn i Danmark. Det är en ring i brons där det kommer ut ånga som bildar en tät dimma, beroende av väder och vind ändrar sig konstverket från dag till dag och även ibland från minut till minut. Det går att passera igenom ringen och känna på dimman. Jag gillar verkligen att Olafur Eliassons konst inbjuder till interaktion med konstverket.
Vaer i vejdret or Weather the weather is an installation in the garden of the Ordrupsgaard museum just outside of Copenhagen. It is a ring in bronze with small holes that vaporise water and it becomes like a dense fog. Depending on the weather it changes constantly, because of the wind. You can walk through the ring and really feel the mist. I particularly like that Olafur Eliasson invites the spectator to interact with his art. 
Alla de tre ovanstående verken har jag sett i verkligheten och nu kommer jag verkligen att hålla ögonen öppna i framtiden efter Olafur Eliassons verk. Jag vill se mer! Nedanstående verk såg på Wikipedia och de var också fantastiska.
All of the three art works above I have seen in real life and I will really keep looking for more of Olafur Eliasson's installations in the future. I want to see more! The following installations I found on Wikipedia and they too look amazing. 
The movement metre for Lernacken 2000. Picture: Wikipedia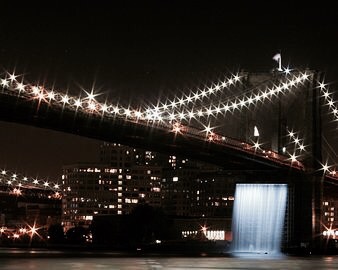 New York City falls from the Brooklyn bridge 2008. Picture: Wikipedia.