Nu är hösten här och så även färgerna, vinrött, petroleumblå och höstens mest trendiga färg, senapsgul. Min man säger honungsgul, vilket låter mycket finare. Som vanligt tycker jag att färgerna i mode och inredning går hand i hand, så även i år.
Now autumn is here and with that the colours of autumn, plum red, petroleum blue and the trend colour for 2018: mustard yellow. My husband says honey yellow, which sounds like a better colour. As always fashion and interior goes hand in hand, this autumn is no exception.
Den här klänningen är riktigt snygg och kommer från Zalando och kostar 649kr. Färgen är nog snyggast på en mörk person men jag är ändå sugen på att köpa den.
This dress is just gorgeous, it is for sale at Zalando for 649kr. The colour is probably best on a person with darker colours, but I want it anyway.
Inom inredning har jag valt några av mina favoriter i höstens trendiga färg.
I have chosen some favourite interior items in this year's trendy colour.
Stolen Net från italienska Nardi är en stapelbar stol i plast som funkar såväl inomhus som utomhus. Den är tålig och snygg och finns både i grått och senapsgul hos Kila Möbler, den kostar 995 kr.
The chair Net from Italian Nardi in plastic are stackable and works great both inside and outdoor. It looks so good and is available in both mustard yellow and grey at Kila Möbler for 995 SEK.
Foto: IKEA
Även IKEA har släppt produkter i den trendiga höstfärgen. Den klassiska öronlappsfåtöljen Strandmon med fotpall har fått en gul höstskrud. Jag måste säga att jag gillar den skarpt, den känns modernare och i en svart-grå inredning blir den en perfekt färgklick. Fåtöljen kostar 1795kr och fotpallen 795kr.
IKEA has also released product in the trendy colour, the classic chair Strandmon has been dressed in yellow. I have to say that I like that so much, it feels more contemporary and placed in a black and grey interior it becomes the perfect touch of colour. The chair is available for 1795 SEK and the stool for 795 SEK.
Höst och vinter är väl ändå plädens tid, så varför inte investera i en i den underbara gula färgen? Pläden Morris från Oscar & Clothilde är handvävd i en mix av ull, akryl och nylon och har långa fina fransar. Den finns att köpa hos Oscar & Clothilde och kostar 699kr, den finns även i andra färger.
Autumn and winter is the time of the blankets, so why not invest in one in the beautiful yellow colour? The blanket Morris from Oscar & Clothilde is handmade in wool, acrylic and rayon with beautiful long fringes. It is available at Oscar & Clothilde for 699 SEK, it is available in more colours of course.
Något som man verkligen behöver på hösten är ljus och lampor. Nu finns Verner Pantons underbara Flowerpot från Louis Poulsen i den trendiga gula färgen. Den finns hos Växjö Elektriska och kostar 2695kr.
Something you really need a lot of when autumn is coming is light. The iconic lamp Flowerpot by Verner Panton for Louis Poulsen is available in the beautiful yellow colour. It is available at Växjö Elektriska for 2695 SEK.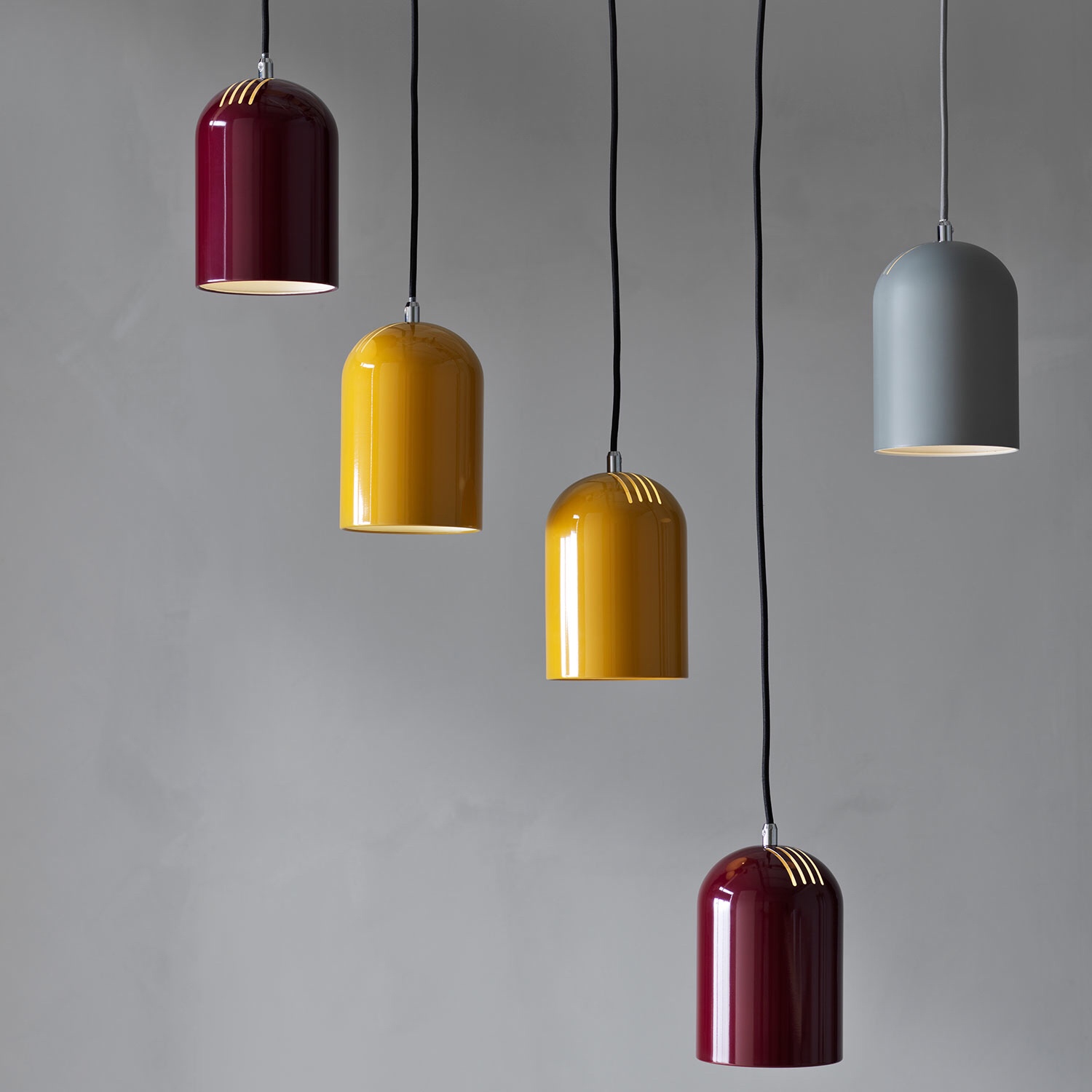 Hänglampan Lennon från Co Bankeryd finns också i de höstfärgerna och är lättplacerad med tanke på sitt utförande. Den kostar 419kr hos Royal Design, den är snygg både i ett fönster eller vid sängen eller läsfåtöljen som extra belysning.
The lamp Lennon from Co Bankeryd also has the beautiful colours of autumn and is easy to place thanks to its design. It is available for 419 SEK at Royal Design, it would look great in a window or beside the bed or the favourite chair as extra light.
Den sista favoriten är den här snygga stolen i sammet. En stol i sammet är nog inte så praktiskt, men vad snyggt det är. Den här är både enkel och snygg och passar både i köket och i matsalen. Den säljs i 2-pack hos Ellos för 1199kr och finns i fler färger. Jag vet inte hur ni känner, senapsgult eller honungsgult kanske inte alls är er färg och jag är inte helt övertygad heller men kanske det blir något litet inköp i den färgen i höst i alla fall. Man ska däremot alltid följa sitt hjärta och inte trender, så köp inget ni inte tycker mycket om.
The last favourite is this gorgeous chair in velvet. A chair dressed in velvet might not be the most practical chair to have close to food but it is beautiful. This chair is so simple and stylish and looks great in any kitchen or dining room. It is available in a stack of 2 at Ellos for 1199 SEK and they have other colours. I do not know how you feel about the colour mustard yellow or honey yellow, I am not totally convinced. Maybe I will buy something in that colour this autumn, I do not know, but do not buy it because it is a trend but because you love it.