Jag är orimligt förtjust i skrivbord, lika bra att erkänna det på en gång! Kanske är det för att jag verkligen gillar det som händer vid ett skrivbord, de processer som är igång där och som tecknas ned där. För mig innebär skrivbord tankar som fångas och tecknas ned, texter och berättelser som skrivs, bilder och film som bearbetas, skisser och planer som ska förverkligas. Alla de här aktiviteterna, och säkert många andra som har fallit mig mellan fingrarna just nu, äger rum vid ett skrivbord, passerar förbi ett skrivbord eller förvaras ofta i eller på ett skrivbord. Jo, visst, sedan ryms ju räkningar och många andra av vardagens praktikaliteter, nödvändigheter, stora och små saker även på mitt skrivbord, liksom det säkert gör hos dig.
Sådana här saker och aktiviteter är en del av vår vardag, arbete och fritid och då tycker jag att de gärna får ha sin plats vid ett vackert, snyggt och gärna praktiskt skrivbord. Här kommer därför tio snygga skrivbord, en del mest snygga, en del mer praktiska och flera av dem förhoppningsvis både och! Däremot är inte skrivborden i någon särskild ordning, utan de kommer som de råkade hamna… …ibland behöver ju inte allt vara rangordnat och strukturerat!
I am immoderately fond of desks, I might as well admit it! Perhaps it is because I really like what is happening at a desk, the processes taking place there and what are recorded there. To me, desks imply thoughts that are being caught and written down, texts and stories that are being written, photos and film that are being edited, sketches and plans that are to be realized. All these activities, and surely many more that have disappeared from my current focus, are taking place at a desk, passing by a desk or are often kept in or on a desk. Furthermore, my desk often harbours bills and several other of life's everyday practicalities, necessities, items large and small, as your desk most surely does, too.
These things and activities are part of our everyday life, work and spare time – I think that they might as well take place by beautiful, stylish and practical desk. In that spirit, here are ten desks, some mostly for their good looks, some more practical and some of them hopefully both! They are not arranged in any particular order or hierarchy, just in the order they happened to arrive… …sometimes not all things have to be in perfect order!
Marcel Breuers skrivbord S285 är ett snyggt exempel på den modernistiska Bauhaus-stilen:
Marcel Breuer's desk S285 is a good example of the modernist Bauhaus style:

George Nelsons skrivbord för Herman Miller är ett klassiskt modernt skrivbord som verkligen är klassiskt snyggt:
George Nelson's desk for Herman Miller is a classical modern desk with seriously good looks: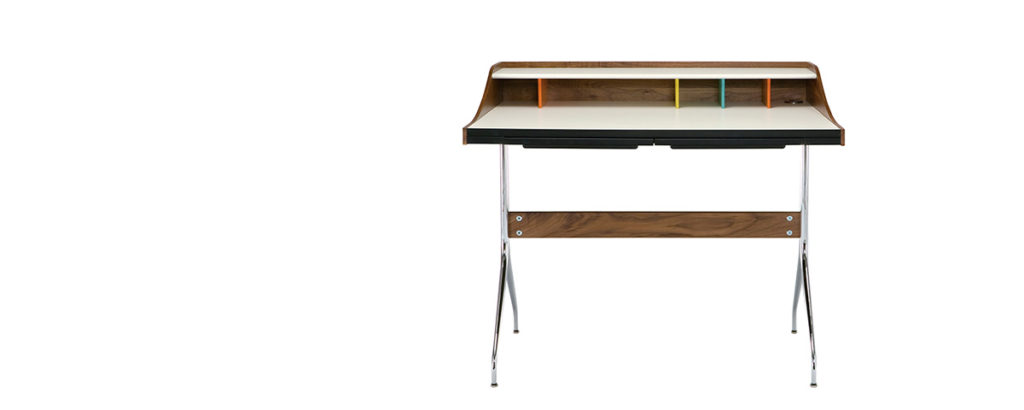 Poul Nørreklit formgav flera snygga skrivbord på 1960-talet, flera med underrede av plexiglas. Just det här skrivbordet finns på Jacksons:
Poul Nørreklit designed many great desk in the 1960s, several with a base of acrylic. This particular desk can be found at Jacksons:

Danskitalienska designduons Gamfratesis skrivbord Collector desk gillar jag för de rena linjerna och enkelheten:
I like the Danish-Italian design duo Gamfratesi's Collector desk for its clean lines and simplicity: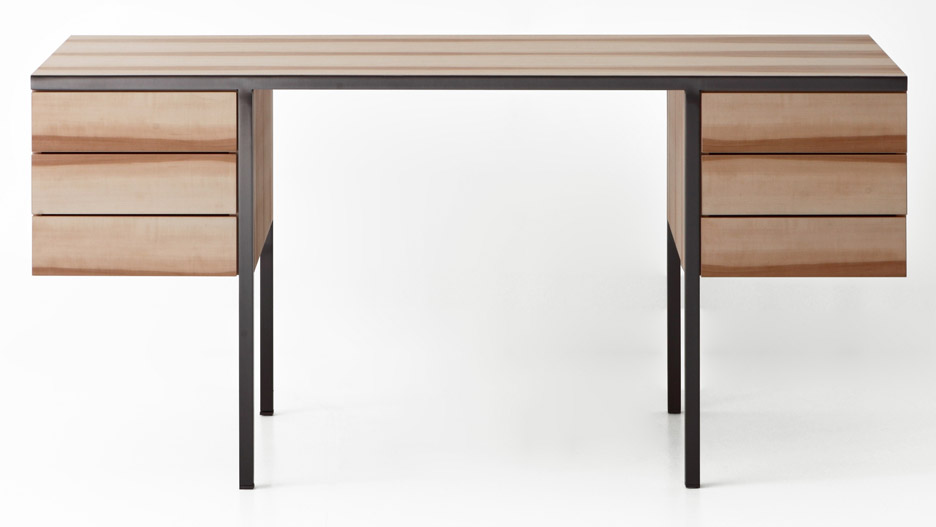 Le Corbusiers matbord LC6 från Cassina, som jag skulle kunna tänka mig som skrivbord, tillsammans med en snygg hurts:
Le Corbusier's dining table LC6 from Cassina, would make en excellent desk, along with a nice storage unit:

Ett nyare skrivbord är skrivbordet Cupertino Leibal från danska BoConcept, med inbyggda sladdgömmor och som dessutom har inbyggda högtalare:
A somewhat more contemporary example is the desk Cupertino Leibal from Danish BoConcept, with secret cable management and built-in speakers:

En annan nyare modell är skrivbordet Mun15 från holländska SlowWood. Det är även ett skrivbord som jag skulle kunna ha som en arbetsplats för mitt silversmide och skissande:
Another newer model is the desk Mun15 from the Dutch Company SlowWood. Also, it is a desk that I very well could consider having as a work space when working with my silversmith and sketching:

Ett annat skrivbord som jag är svag för är Cosimo av Marco Zanuso från den franska möbelföretaget Adentro. Det är enkelt, rent i formerna och både modernt och klassiskt på samma gång:
Another desk that I am fond of is Cosimo by Marco Zanuso, for the French furniture company Adentro. it is simple, has clean shapes and manages to be both modern and classical at the same time:

Däremot behöver ju inte alla skrivbord vara tokdyra och ha välkända formgivare som upphovsmän. Det viktiga är att det är en arbetsplats som fungerar, att det är något man trivs med och tycker är snyggt! Personligen är jag lika nöjd med ett enkelt men snyggt skrivbord, utan något välkänt designernamn, som med ett designerskrivbord. Ibland när man springer på en snygg möbel som man inte kan placera, där man inte vet vem som har ritat det, kan det nästan vara mer intressant än när man vet precis vad man har framför sig. En enkel variant, som nästa fungerar som en blank duk, är lösningen med ett bordsunderrede eller benbockar som man kan kombinera med vilken bordsskiva man vill. Två sådana varianter är benbockarna Lerberg från Ikea och ett annat par från Habitat:
However, not all desks have to be ridiculously expensive and be penned by a well known designer. The important thing is that it provides a functional work place, that it is something you appreciate and find aesthetically appealing! Personally, I am just as happy with simple but stylish desk, without a fancy designer's name, as with a designer desk. Sometimes when you come across a nice piece of furniture that you really can't place, that can almost be more interesting then when you know exactly what is in front of you. A simple model, that almost works as a blank canvas, is the combination of a pair of trestles with your choice of desktop. Two examples of that are the trestles Lerberg from Ikea and another pair of trestles from Habitat: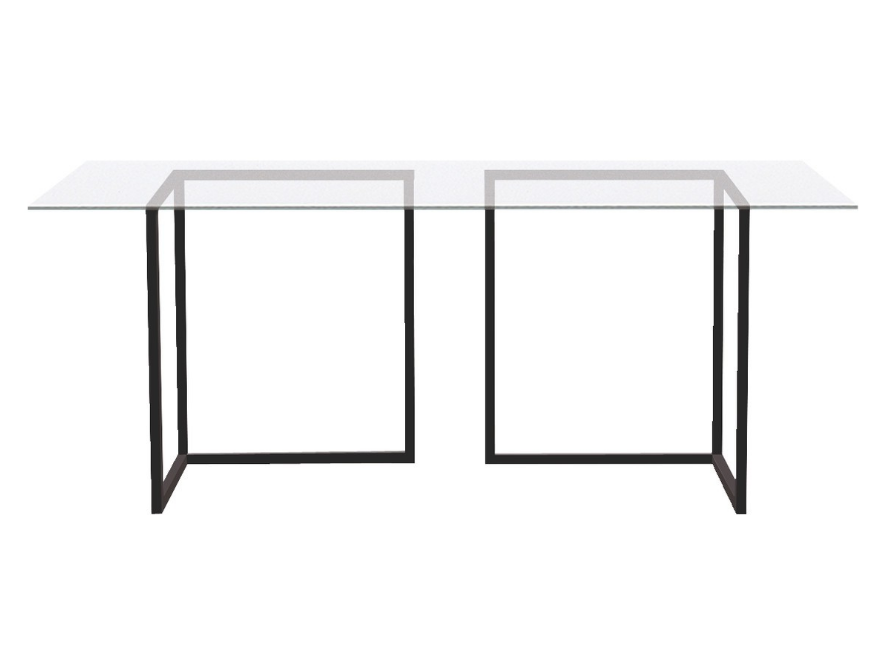 Om vi hoppar tillbaka i tiden, till Greta Magnusson-Grossmans skrivbord 62-series för Gubi, har vi ett annat snyggt skrivbord. Det lyckas med att ge både ett lätt och tungt intryck på samma gång:
If we would skip back in time, to Greta Magnusson-Grossman's desk 62-series for Gubi makes a really nice desk. It manages to produce both a light and a heavy impression at the same time:

Jag måste få avsluta med ett bord från en av mina absoluta mest uppskattade formgivare, Zaha Hadid och hennes bord Mew table. Jag är så svag för hennes organiskt futuristiska former!
I simply have to end by including a desk (or rather, table) from one of my absolute favorite designers, Zaha Hadid, and her table Mew table. I am so fascinated by her organically futuristic shapes!