The Danish company Menu has a wide range of beautiful and well-designed products. I thought I knew most of them, but I just noticed two of their lamps that I hadn't looked closely at before. These two lamps have something in common, and that is that they break free from the cords that usually tie most lamps to one place. 
Det danska företaget Menu har en lång rad vackra och väldesignade produkter. Jag trodde att jag kände till de flesta av deras produkter, men jag fick precis syn på två av deras lampor som jag inte hade tittat närmre på innan. De här två lamporna har något gemensamt och det är att de bryter sig loss från de sladdar som brukar begränsa lampor till en viss plats. 
The Column table lamp is made from anodized aluminium, has a nice dark bronze shade. It is quite small, about 18 centimeters tall and just 12 centimeters in diameter. The light source is an LED and the lamp is rechargeable through a common USB charger. 
Bordslampan Column är gjord av anodiserad aluminium och har en snygg bronsnyans. Den är ganska liten, omkring 18 centimeter hög och 12 centimeter i diameter. Ljuskällan är en LED-lampa och hela lampan kan laddas upp via en vanlig USB-laddare.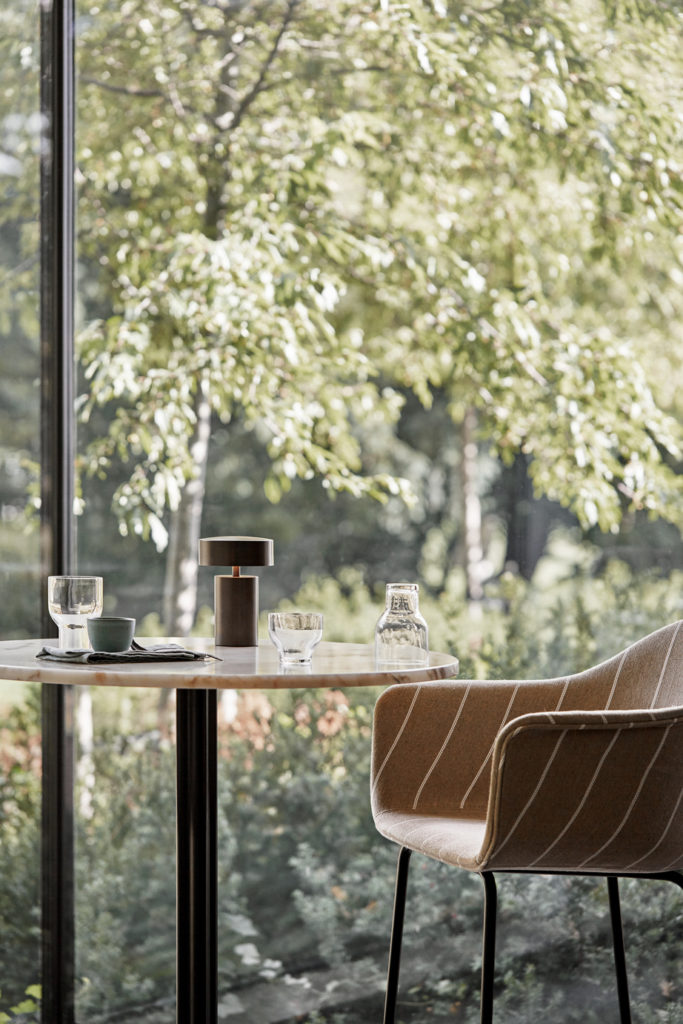 The fact that it is cordless makes for multi-purpose lamp – you can take it with you wherever you go, to any room in your home. Also, the lamp has three settings, so that you can choose the right light for any situation. The Column table lamp is designed by Norm Architects. 
Att lampan är trådlös gör att den går att användas på många olika sätt – man kan med sig den vart man än går, till vilket rum som helst i sitt hem. Dessutom har den tre ljusstyrkor så att man kan välja rätt ljus i rätt situation. Lampan Column table lamp är formgiven av Norm Arkitekter. 
The other lamp from Menu is the Phare LED lamp. It is slightly bigger, even though it is a petite lamp. It was designed specifically for apartment No. 50 of Le Corbusier's "Cité Radieuse" in Marseille, by Stanislaw Czarnocki. This lamp is also rechargeable via USB and it is 23 centimeters tall and about 13 centimeters in diameter. 
Den andra lampan från Menu är Phare LED lamp. Den är lite större, även om det fortfarande är en liten lampa. Den designades speciellt för lägenhet nummer 50 i Le Corbusiers "Cité Radieuse" i Marseille, och den formgavs av Stanislaw Czarnocki. Den här lampan är också laddningsbar via USB och den är 23 centimeter hög och omkring 13 centimeter i diameter.
The shape of the lamp is made out of a beautiful play of basic shapes – a cylinder forms the base and attached via two combined round metal rods is the spherical lamp shade. The shape allows you to place the lamp almost anywhere and in different positions. Also, it comes in three colours; black, burned red and light grey. 
Lampans form utgörs av ett vackert spel mellan några olika former – en cylinder utgör basen och på den är runda metallstavar fästa som håller upp den sfäriska lampan. Formen gör att man kan ställa lampan nästan var man vill och på olika sätt. Den finns dessutom i tre olika färger; svart, bränt röd och ljusgrå.
Any of these two lamps would look great in most corners of my home, and I'm sure they could easily find a perfect spot in your home, too. 
Vilken som helst av de här två lamporna skulle vara väldigt snygga hemma hos mig och jag tror att de skulle kunna hitta en bra plats hemma hos dig också.
All photos of the Column table lamp and the Phare LED lamp come from Menu.
All bilder av bordslampan Column och LED-lampan Phare kommer från Menu.