Speakers lately seem to have become smaller and smaller, until now it seems. AudioPro, the small Swedish speaker manufacturer with the big sound, have just released a new addition to their speaker line up – the Drumfire. 
Högtalare har blivit mindre och mindre de senaste åren, fram tills nu verkar det som. AudioPro, den svenska högtalartillverkaren med det stora ljudet, har nyligen släppt en nytillskott till sin högtalarserie – Drumfire.
Audiopro's line up has usually consisted of smallish speakers with great, clear sound and delivering surprisingly good low-end (bass) performance, but the new one seems to be a new breed, size-wise, that is. It could easily be resembled to a classic stack of guitar amplifiers with the top and a large unit underneath:
AudioPros högtalarserie har brukat bestå av mindre högtalare med riktigt bra och klart ljud och som leverar förvånande bra i det lägre registret, det vill säga bas, men den nya verkar vara en ny sort – i alla fall sett till storleken. Den kan lätt liknas vid en klassisk gitarrhögtalare med toppen högst upp och en större enhet undertill:
It is a large piece, in its dimensions bearing some likeness to Geneva Lab's largest models, but then it houses some resources as well. The top, that is tilted slightly upwards, has a speaker array of a pair of tweeters and a pair of smaller woofers. The large unit is the subwoofer and has a larger long throw woofer. The entire unit stands somewhat shy of 70 centimetres tall that makes it almost into a piece of furniture, but a good-looking one.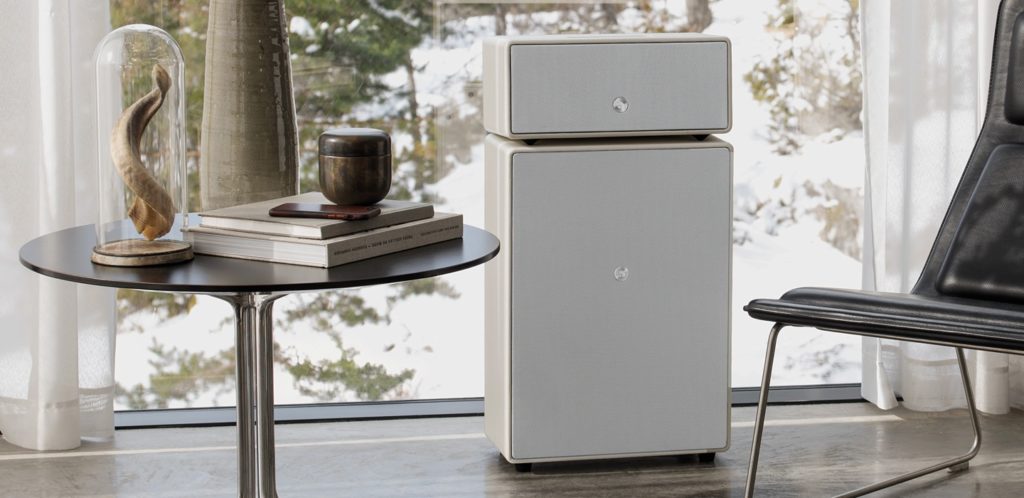 Det är en stor pjäs, med sina dimensioner kanske den liknar Geneva Labs största modeller, men den har rejäla resurser också. Toppen, som är något vinklad uppåt, har en högtalaruppsättning med två diskanter och två nättare bashögtalare. Den större enheten är bashögtalaren och har en större bashögtalare med djup slaglängd. Hela enheten är knappt 70 centimeter, vilket nästan gör den till en möbel, men en riktigt snygg möbel!
The Drumfire comes with the good control setup of the other multiroom speakers from Audiopro, along with the multiroom, streaming and bluetooth functions, along with Airplay and Spotify Connect. There is also an RCA and a 3.5mm connection. It is available in three shades, white, grey or black. Also, did I mention that you can combine two of them to work as stereo pairs if you want more stereo separation and even more power? These are speakers that I really can't wait to listen to, because AudioPro's other speakers really appeal to and work well for us with their good functions and great sound that is airy, detailed and powerful at the same time – that works really well with our wide taste in music. According to WhatHiFi?'s review of the Drumfire it certainly follows AudioPro's line of great-sounding speakers.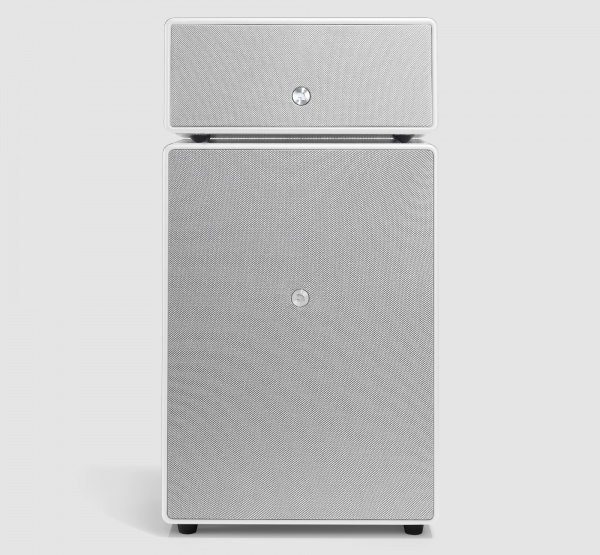 Drumfire har samma väl utformade kontroller som de andra multiroom-högtalarna från AudioPro, liksom multiroom-möjligheterna, streaming och bluetooth, utöver AirPlay och Spotify Connect. Det finns också en RCA- och en 3,5 millimetersanslutning. Drumfire finns i tre färger, vit, grå eller svart. Förresten, nämnde jag att det går att kombinera två av dem till ett par stereohögtalare om man vill ha ett bredare stereoljud eller ännu mer kraft? Det här är högtalare som jag vill provlyssna ordentligt, eftersom AudioPros vanliga högtalare verkligen faller mig i smaken med sina funktioner, sitt fina, detaljerade, luftiga och samtidigt kraftiga ljud vilket gör att de passar bra till vår breda musiksmak. Enligt recensionen av Drumfire av WhatHiFi? går den här högtalaren helt i linje med AudioPros andra välljudande högtalare.
All photos come from AudioPro.
Alla bilder kommer från AudioPro.