H&M home satsar på det naturliga i sin sommarkollektion, färgerna är jordiga i olika bruna nyanser blandade med naturvitt och svart. Materialen är naturliga och mönstren är grafiska med afrikanska inslag. Här kommer några av mina favoriter.
H&M Home goes for the natural feeling in their summer collection, the colors are earthy in different brown shades mixed with white and black. The materials are natural and the patterns are graphic with an African touch. Here are some of my favourites.
H&M Home har en jättefin serie med skålar, krukor och fat i antikbehandlat trä. De finns i ljust och mörkt trä och känns riktigt tåliga för utomhusbruk. H&M Home have a beautiful collection with bowls, pots and plates in wood with an antique finish. They make them in both light and dark wood and feel durable enough for outdoor use.
Deras vackra kuddfodral i slubvävd bomull med tryckt mönster är jag riktigt sugen på. De kostar dessutom bara 50 kr så det blir inte någon jättedyr investering för en mysig uteplats. De finns både i grått, svart och vitt. Their beautiful pillowcase in cotton with a nice graphic pattern is something I want for my terrace. They don't cost much only 50 SEK so there's no need for a big investment in order to get a cosy patio. They are made in both grey, black and white.
En snygg duk i en kraftigare kvalité är perfekt för matbordet på uteplatsen. Den här duken är i oblekt ekologisk bomull med invända ränder i svart med fransar på kortsidorna. Den är ifrån deras Conscious-kollektion och är 145×200 cm stor och kostar 249 kr. A nice table cloth that feels perfect outdoors in its heavier quality. The cloth is made of unbleached cotton with black stripes and tassels on the ends. It is from their Conscious collection and is made in the size 145×200 cm and is available for 249 SEK.

Nu är det inte så ofta som man sover utomhus i det här landet men tanken är ju väldigt lockande och med den utsikten hade det ju varit helt fantastiskt. Oavsett om man har en säng utomhus eller inte så kan man ju ha dessa vackra påslakan inne. De är i bomull med tryckt mönster och finns som enkellakan och dubbellakan. It is not very often that we sleep outdoors in this country but the thought is very tempting and with that view it would have been amazing. No matter if you have a bed outside or not you can always have this set of bed linen inside. They are made in cotton with a printed pattern and are made both as single duvet cover and double duvet cover.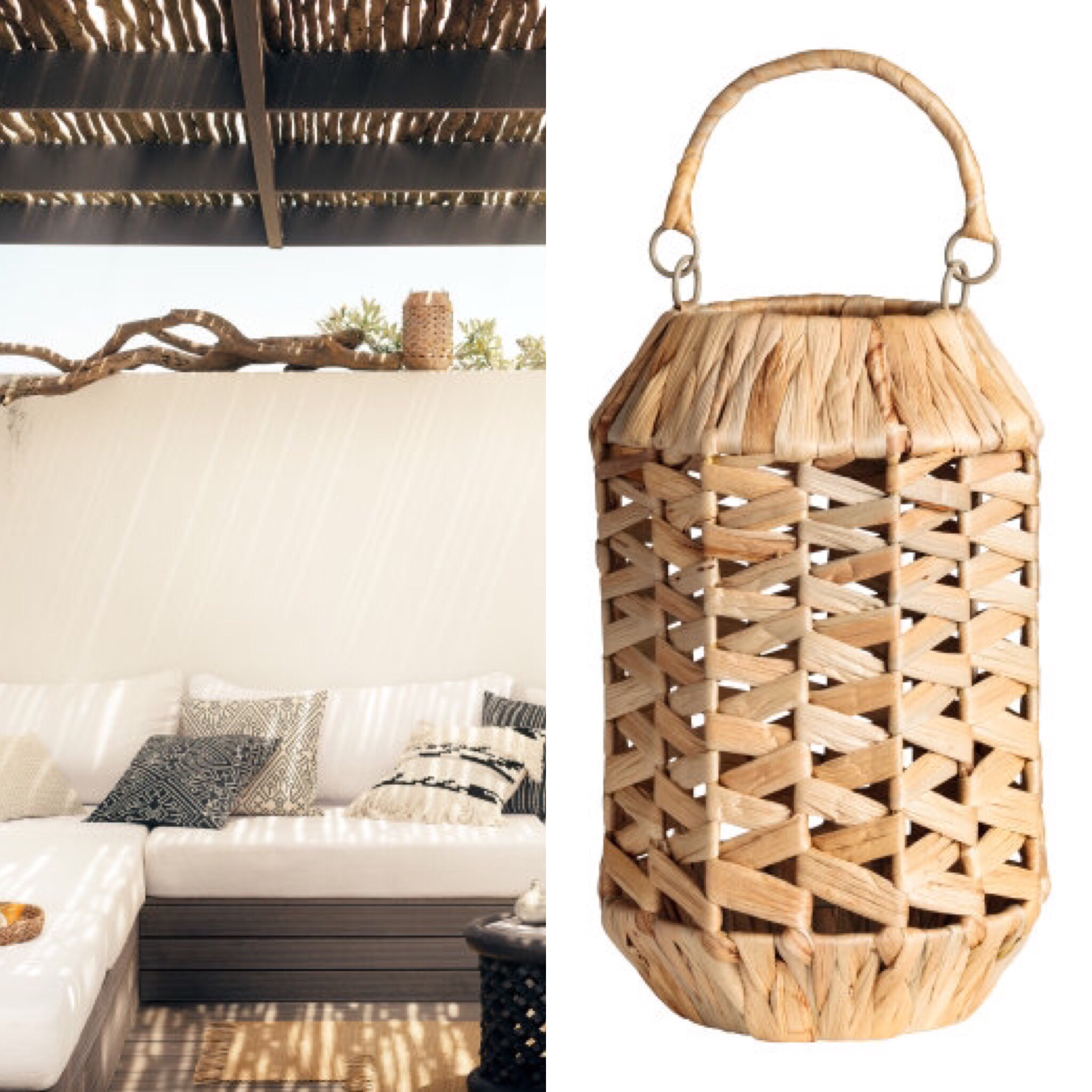 En vacker ljuslykta i flätad vattenhyacint och metall. Den är riktigt snygg men behöver nog stå under ett tak för att fortsätta att vara snygg så den passar inte på min uteplats, tyvärr. A beautiful lantern in water hyacinth and metal. It is so nice but probably needs to be under a roof to continue to look good so it is not suitable for my open air terrace.