Ikea har släppt sina höstnyheter och vi har tittat igenom dem lite snabbt för att hitta våra favoriter bland IKEAs höstsortiment.
IKEA has released their new products for the fall season and we have browsed through them swiftly to find our favourites among IKEA's fall line-up. 
Belysning
Nymåne är en serie lampor från IKEA och de finns i en rad olika modeller – taklampor, bordslampor och vägglampor i olika varianter. Jag tycker att vägglampan är riktigt snygg.
Nymåne is a series of lamps from IKEA and they come in various models – ceiling lamps, table lamps and wall-mounted lamps in different versions. I particularly like the wall-mounted lamp: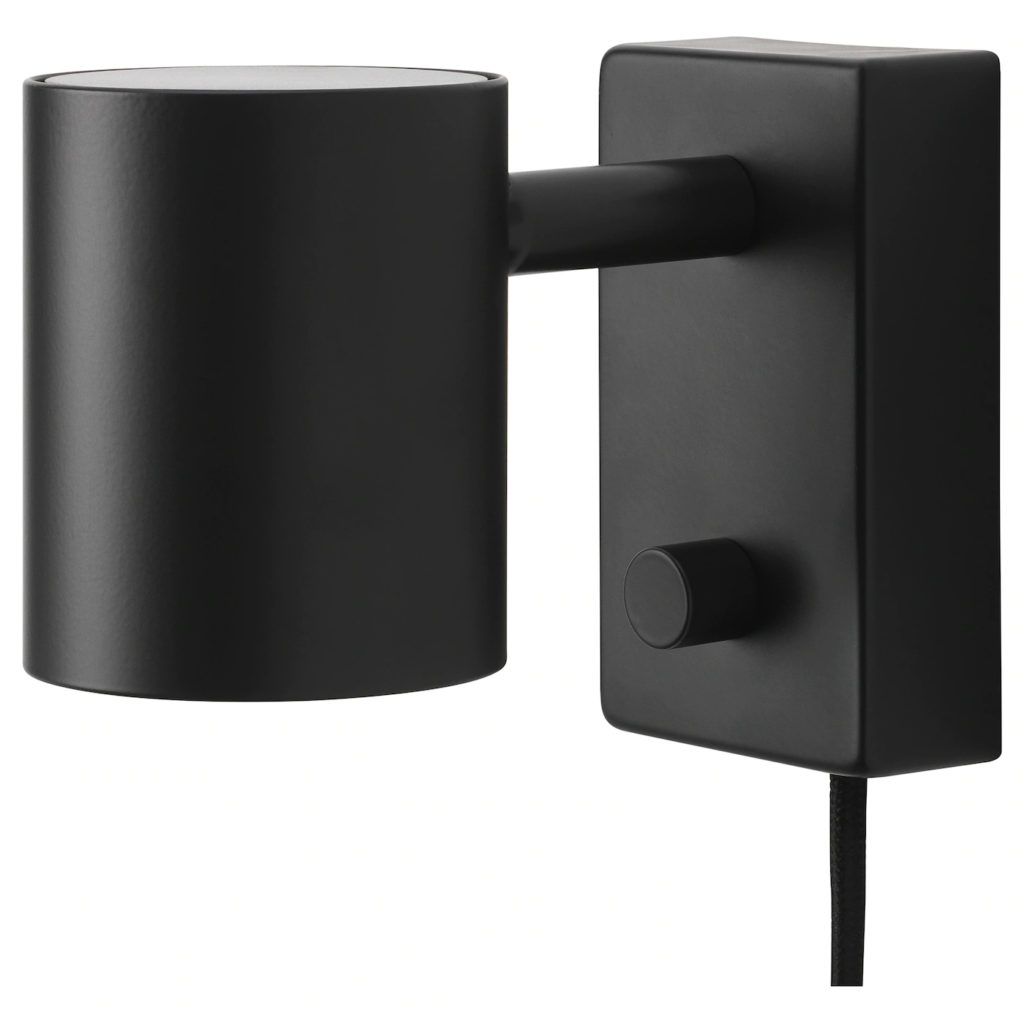 Sedan finns ju också en variant av vägglampan med en svängbar arm som gör den riktigt praktisk.
There is also the wall-mounted lamp with a swivel arm that makes it even more practical. 
Dessutom finns den som en spotlight för takmontering.
There is also a ceiling-mounted spotlight. 
En annan variant av belysning är lyktan Behärska för blockljus.
Another kind of lighting is the candle light holder Behärska.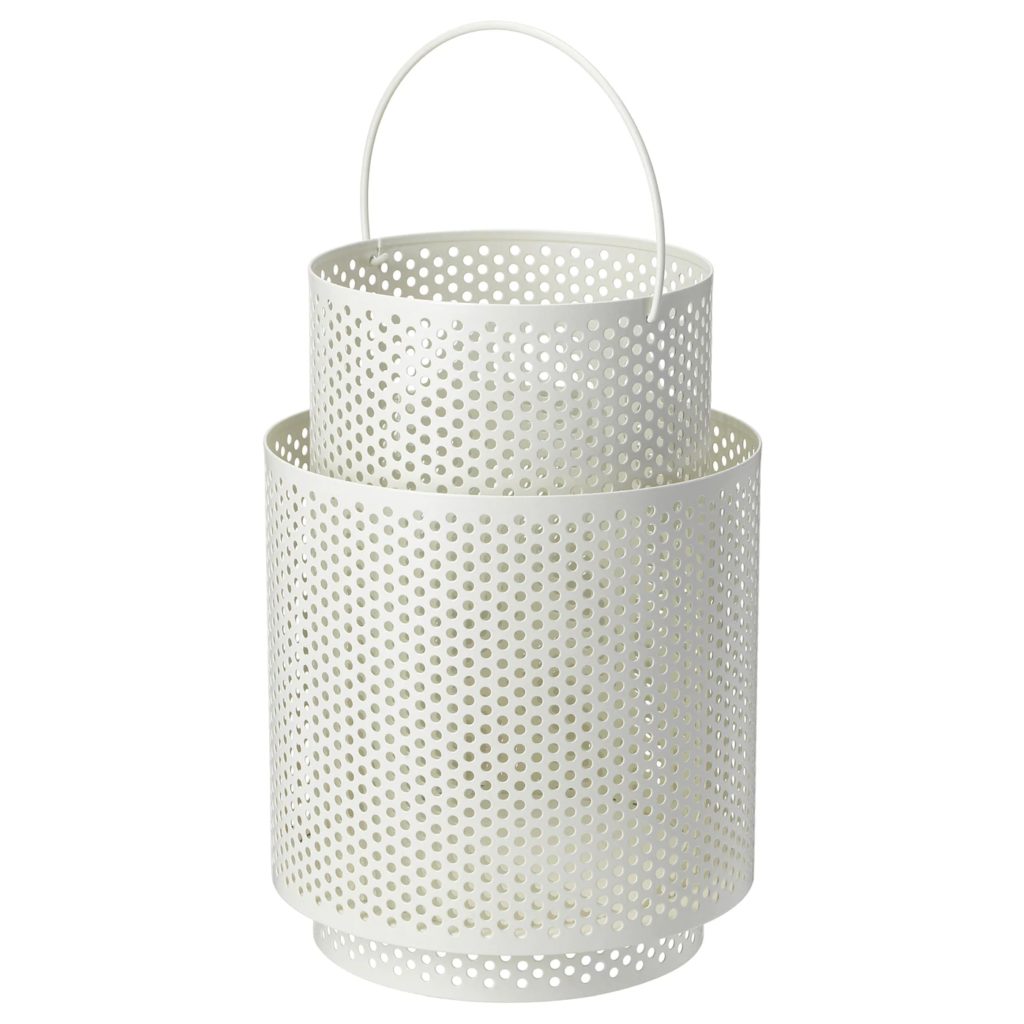 Köksutrustning
Kungsfors diskställ har en praktisk bricka undertill som fångar upp vattnet från den torkande disken. Det kan dessutom monteras på väggen eller ställas direkt på bänkskivan om man hellre vill det.
The dish stand Kungsfors has a practical tray underneath that collects the drops of water from the dishes. It can be placed directly on the work top or can be mounted to a wall, whichever you prefer. 
Rullvagnen Nissafors är liksom alla rullvagnar smidiga och kan rullas iväg för att användas där man behöver lite extra yta. Den här rullvagnen är nätt och snygg i den svarta finishen.
The trolley Nissafors is, like most trolleys, really practictal in that it can easily be moved and placed where you need it for the moment. This trolley is also fairly small and looks good in the black finish.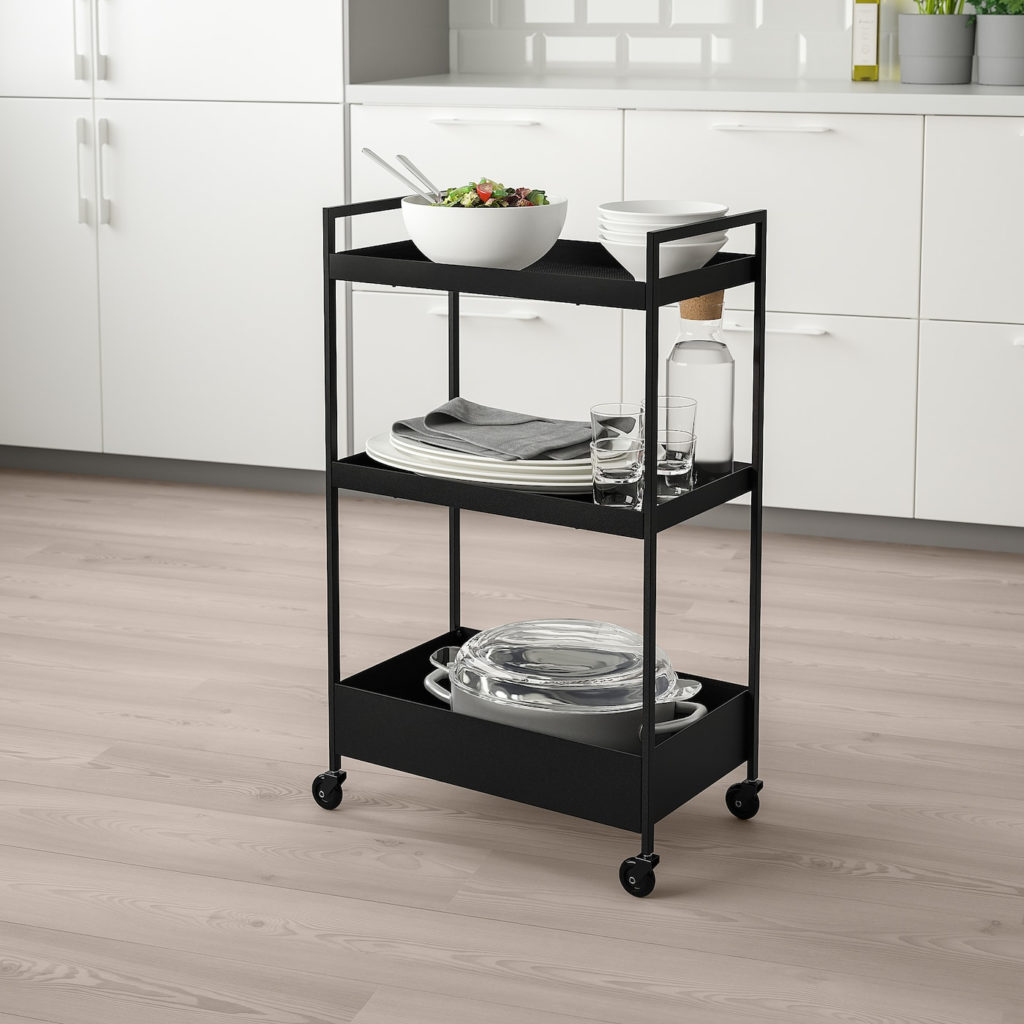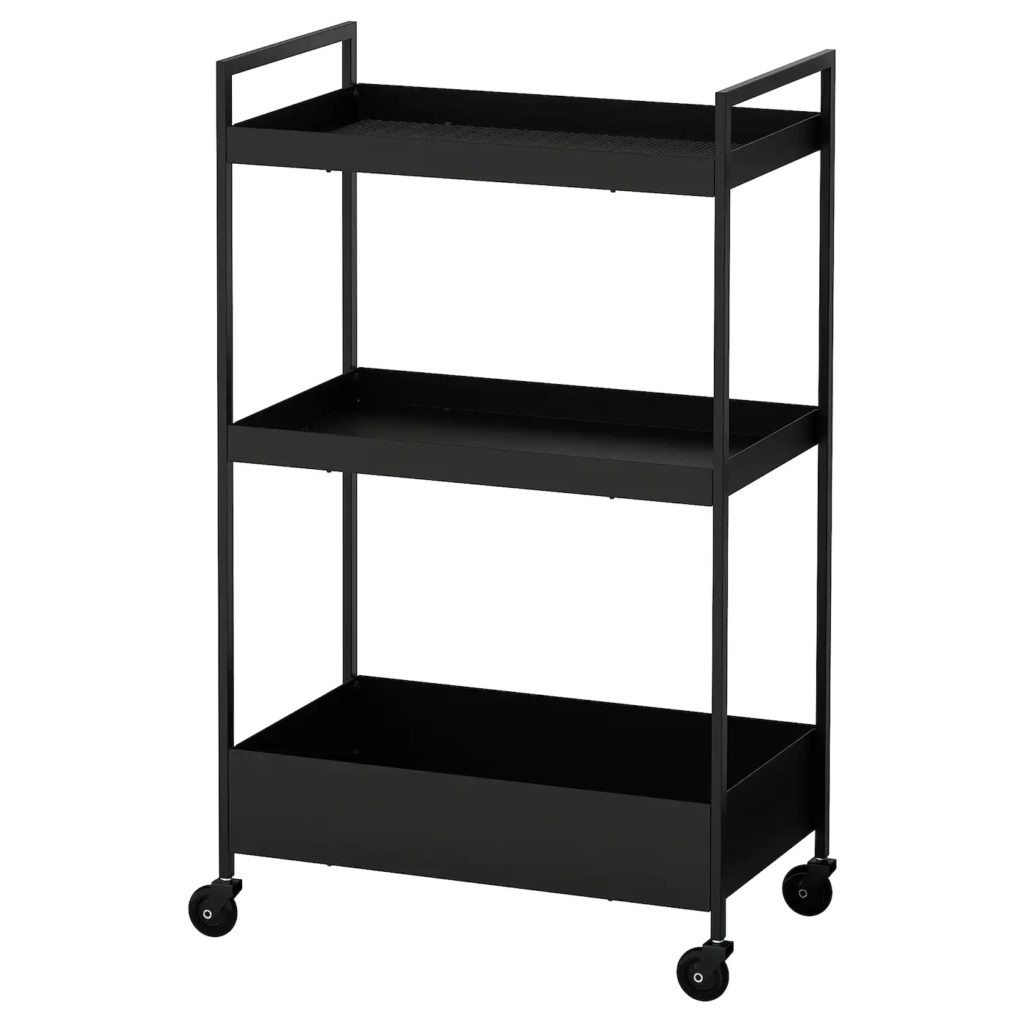 Bredsjön är en snygg och stilren diskho i rostfritt stål och den går dessutom ned en bit framtill och det gör att den blir mer markerad. Bredsjön finns som enkel diskho, eller som en dubbel.
The kitchen sink Bredsjön is a simple and stylish stainless steel sink. It goes all the way down in the front, which accentuates the sink more. It is available as a single sink or as a double.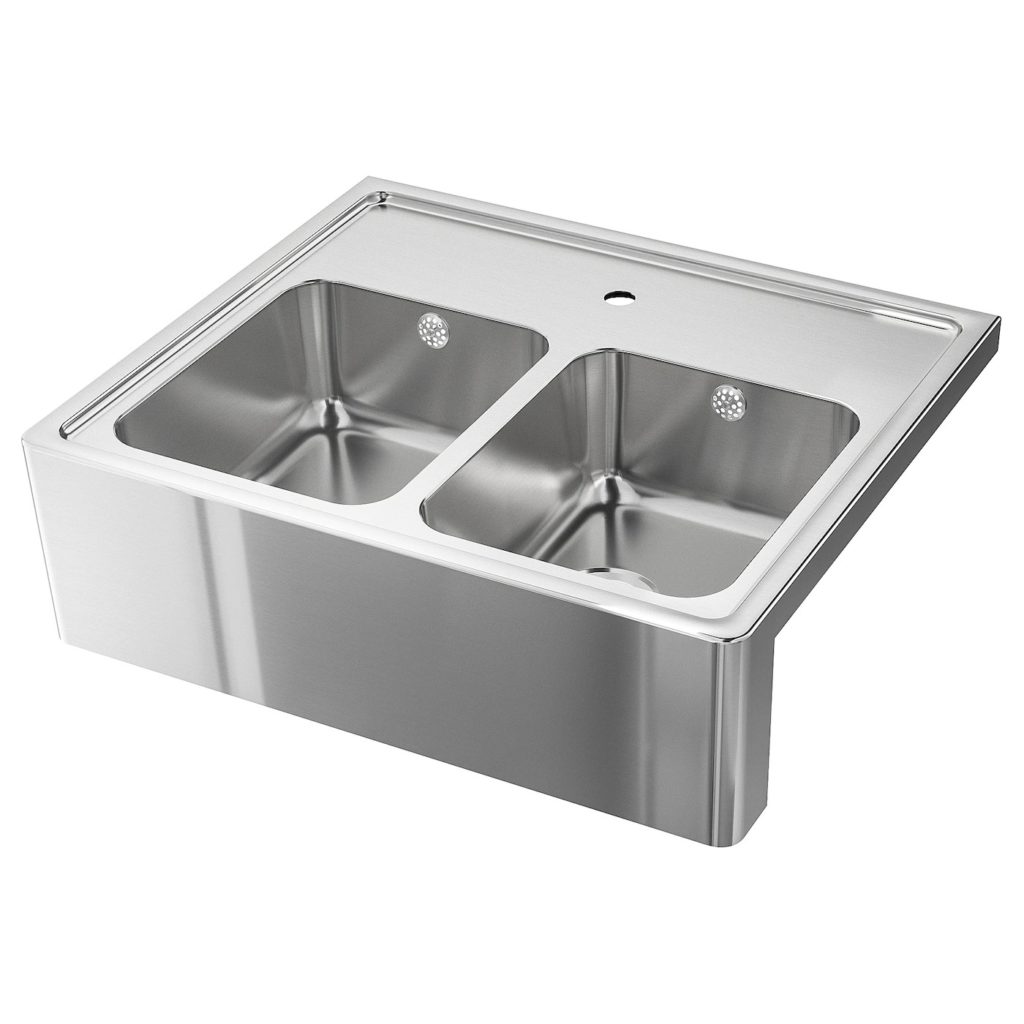 Möbler
IKEAs förvaringsserie Bestå har funnits ganska länge och i många olika varianter, men nu har det kommit en variant av Bestå med dörrar med bronsutseende, eller bronseffekt som IKEA kallar det.
IKEA's storage line Bestå has been around for a while and comes in various versions, but now there is a new version of Bestå with doors laminated in a bronze effect. 
Nikkeby är en serie bestående av en klädställning och en byrå. Den finns i både rött, som här, eller grått.
Nikkeby is al line comprising of a clothes rack and a chest of drawers. They come in red, like here, or in grey.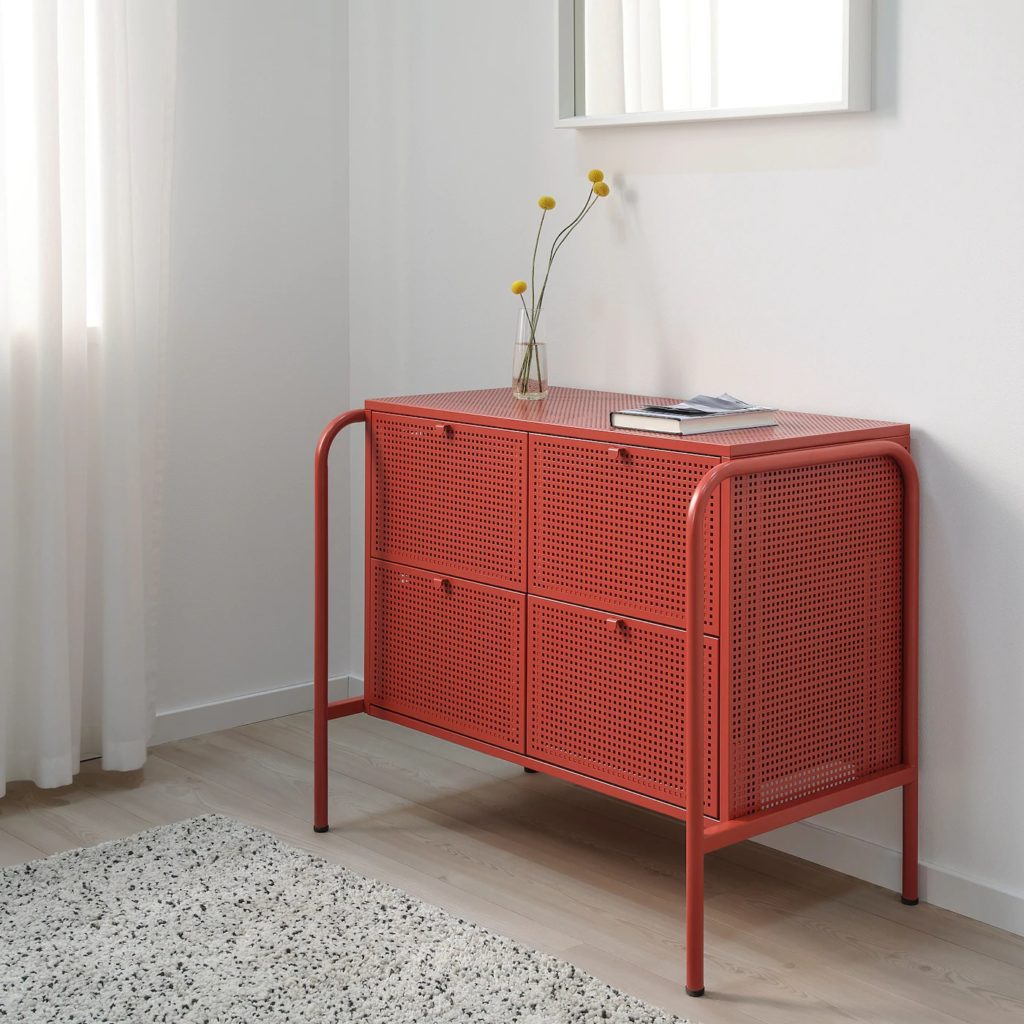 Listerby är ett nätt och snyggt avlastningsbord och det finns i vitlaserad ek, som här, eller i brunlaserad ek.
Listerby is neat and good-looking side tabla that comes in either white oak like this one, or a darker version. 
Ett annat bord, ett matbord även om det är av modell mindre, är bordet Tommaryd.
Yet another, table, albeit a smaller dining table, is the stylish table Tommaryd. 
Det här bordet är lite högre så att en barstol passar bäst. Det för oss vidare till en stol som finns både som matbordsstol och som barstol, stolen Yngvar.
This table is slightly taller so that a bar stool would be best. That brings us to a chair that comes as either a dining table chair or as a bar stool, the chair Yngvar. 
Stolar och sittmöbler
Stolen Yngvar är snyggt enkel i linjerna med sina böjda stålrörsben och svängda ryggstöd. Stolen finns i antracitgrått eller rött. Den är dessutom praktiskt tack vare att den går att stapla och när man ska städa går det att hänga stolen på bordet på ändarna av det svängda ryggstödet.
The chair Yngvar looks good with its clean lines thanks to the curved steel tubes and the curved back rest. The chair comes in either anthracite grey or in red. Furthermore, it is practical since it is stackable and when cleaning the chair can be hung on the table thanks to the protruding ends of the back rest. 
Sedan såg jag också att stolen Öglan är en nyhet. Det är ju egentligen en stol som IKEA har haft tidigare, men det kanske är en nyproduktion av den eller så har IKEA ändrat något på den, vilket gör att det räknas som en nyhet.
Also, I saw that the chair Öglan is announced as a new arrival. It really is a chair that IKEA has had in their line-up before, but now it might have been taken into production again or it is that they have made som alterations to it that makes it count as a new arrival. 
Fåtöljen Ulriksberg är en snygg nyhet i svartlackerat stålrör och sits och armstöd i rotting. Helt enkelt en snygg fåtölj som är lätt att flytta runt efter behov.
The armchair Ulriksberg is a nice addition with its black steel pipes and seating in rattan. Quite simply a nice armchair that you easily can move to wherever you want it.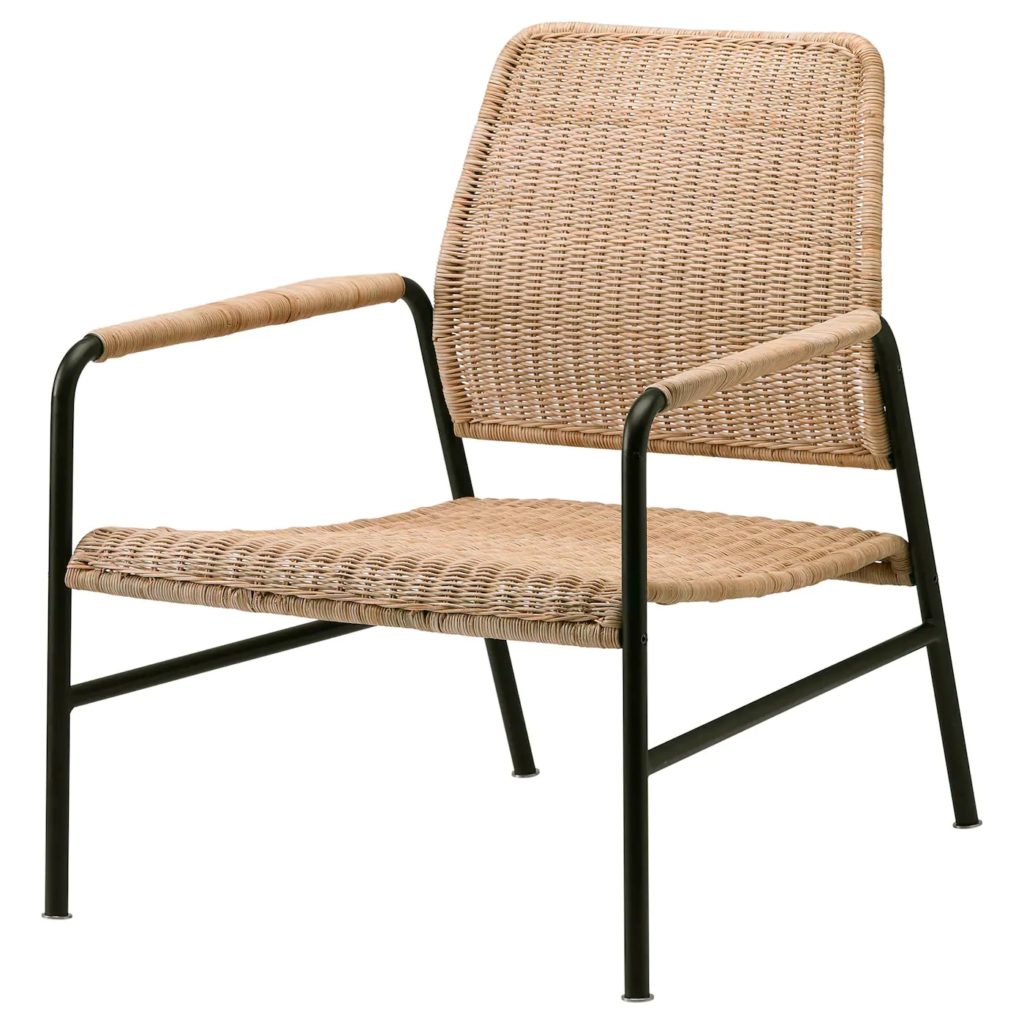 Flottebo är en bäddsoffa som när den inte är uppbäddad fungerar som dagbädd, och det är nog det jag tycker mest om… Ryggkuddarna är lösa men har ett material på undersidan som ska göra att de inte glider. Det går även att få med ett litet sidobord om man vill det.
The sofa-bed Flottebo functions as a daybed during daytime, and that is probably what I like more than the sofa-bed function… The backrests are not fixed but the underside is covered in an anti-slip material. There is also small sidetable fixed to the frame, available as an option. 
Sedan har ju IKEA även släppt WiFi-högtalarna i serien Symfonisk, men de kan du läsa mer om i ett separat inlägg.
One more thing, IKEA has released their WiFi-speakers in the Symfonisk series, but you can read more about them in a separate post.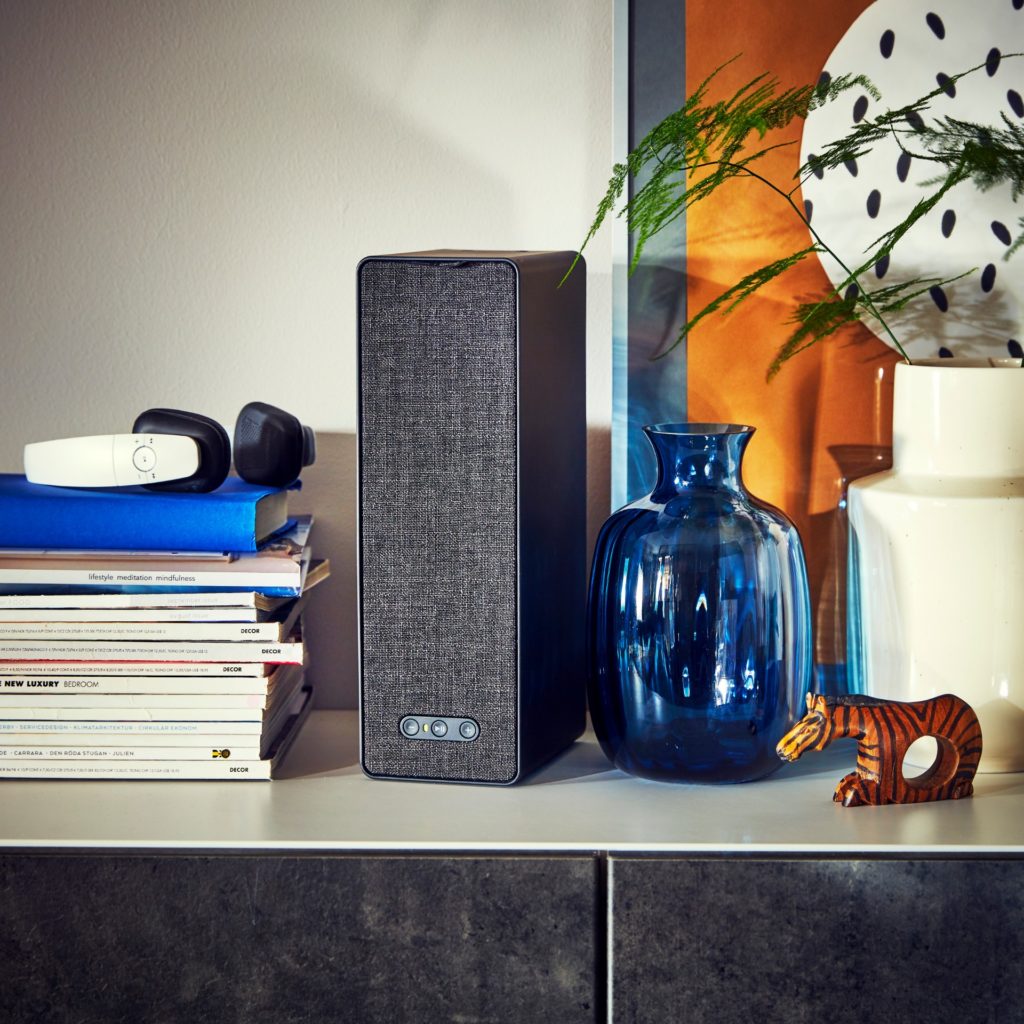 Alla bilder i det här inlägget kommer från IKEA.
All photos in this post come from IKEA.