The Danish high-class audio manufacturer Bang & Olufsen has divided their loudspeakers into two lines – Beoplay and Beosound. The Beoplay line could be called the more affordable product family with products, such as the Beoplay M3 and Beoplay M5, but also the larger disc-shaped Beoplay A9. Among the Beosound line, then, you can find speakers such as the cone-shaped, metal-clad Beosound 1 and Beosound 2 and the hexagonal Beosound Shape, but in November there is going to be a new member of the Beosound family – the Beosound Edge: 
Den danska tillverkaren av högklassig ljudutrustning Bang & Olufsen, har delat upp sina högtalare i två linjer – Beoplay och Beosound. Beoplay-linjen skulle man kunna kalla för en mer åtkomlig produktfamilj med högtalare som Beoplay M3 och Beoplay M5, men också den större Beoplay A9. Bland Beosound-produkterna finns högtalare som de konformade och metallklädda Beosound 1 och Beosound 2, liksom den hexagonala Beosound Shape, men i november kommer det en ny medlem i Beosound-familjen – Beosound Edge:
It is clearly shaped as a disc, or an enlarged simplified coin. It is designed by Michael Anastassiades, who, among other things have penned some great-looking lamps. With the Beosound Edge he has simplified the design to the point where there is nothing redundant, there is just the cloth-clad circular shape that contains the speakers, wrapped in a metal band. Embedded in the aluminium are the touch controls for playback, hidden until the proximity sensors activate them as you come closer to the speaker. But adjusting the volume is done by a far more tactile and physical interaction – you roll the entire speaker backwards or forwards to increase or decrease the volume. Also, a stronger touch will result in a greater change in volume than a gentle touch. The Beosound Edge can be placed on a table on a practically invisible stand, but it can also be placed on a wall with a special wall mount.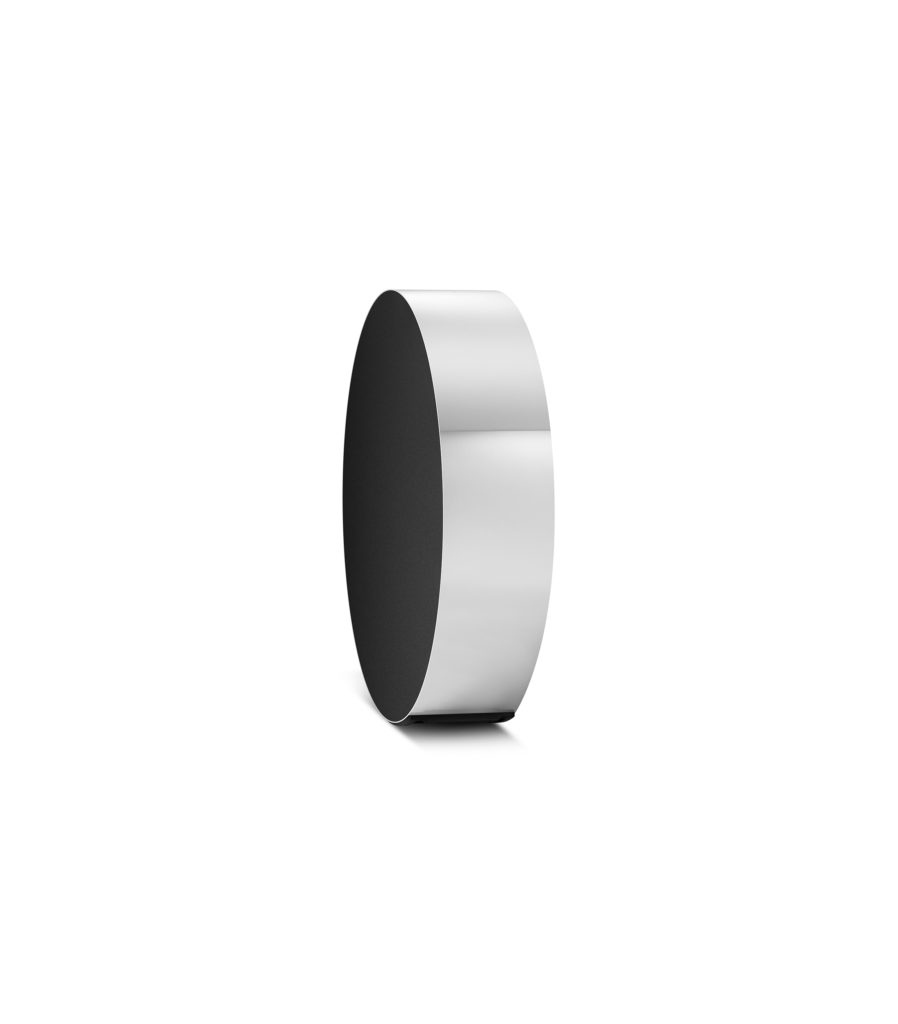 Den är helt klart formad som en skiva, eller ett stiliserat mynt. Den är designad av Michael Anastassiades, som bland annat har ritat en del riktigt vackra lampor. Med Beosound Edge har han förenklat formen till den grad att det inte finns något överflödigt, det är bara den tygklädda runda formen som innehåller högtalarna, med ett band av metall runt. Inbäddat i metallen finns touch-kontrollerna för uppspelning som är gömda tills närhetssensorerna aktiverar dem när man närmar sig högtalaren. Att justera volymen är däremot en mer fysiskt påtaglig upplevelse – man för hela högtalaren åt sidan för att höja eller sänka volymen. Dessutom är det så att tar man i lite mer höjer eller sänker man volymen mer än med mindre kraft. Beosound edge kan placeras på ett bord på ett i stort sett osynligt ställ, men den också monteras på en vägg med ett särskilt fäste.
Technically it is a wireless speaker and it is part of the B&O multi-room system. Apart from that proprietary system it also supports connections via Airplay, Chromecast and Bluetooth. Inside the disc are two sets of speakers, one on either side that can be controlled through the Bang & Olufsen app. Each side of the speaker contains a mid range driver and a tweeter, but on side there is a big bass woofer and a bass port that, according to B&O, is active so that it will adapt to produce optimal bass regardless of volume and music. Also, it is equipped with a total of six digital amplifiers, so the Beosound Edge should really be able to give a room filling and immersive sound from a wide range of music sources, but most of all, doing so in great style! 
Tekniskt sett är det en trådlös högtalare och den är en del av B&O:S multirumssystem. Förutom den egna lösningen stödjer Beosound Edge även Airplay, Chromecast och Bluetooth. Inuti den skivformade högtalaren finns två uppsättningar högtalare och varje sida kan styras genom Bang & Olufsens app. Varje sida på högtalaren har ett högtalarelement för mellanregistret, en diskant och på ena sidan sitter en riktigt stor bashögtalare och en basport, som enligt B&O är aktiv så att den ska ge optimal bas oavsett musik eller volymnivå. Beosound Edge är dessutom utrustad med totalt sex digitala förstärkare, så den borde verkligen kunna bjuda på omslutande ljud från många olika musikkällor, och mest av allt gör den det i oöverträffad stil! 
All images come from Bang & Olufsen.
Alla bilder kommer från Bang & Olufsen.