In 1965 the spectacularly minimal, yet highly functional Radiofonografo was released by Brionvega. The designer was behind this masterpiece was Achille Castiglioni, who was born in 1918 and to celebrate the 100 year anniversary, Brionvega has released a special 100 years series of the Radiofonografo RR226.
1965 lanserade Brionvega den minimalistiska och funktionella Radiofonografo. Formgivaren bakom det här mästerverket var Achille Castiglioni, som föddes 1918 och för att uppmärksamma hundraårsjubiléet har Brionvega tagit fram en speciell 100-årsversion av Radiofonografo RR226.
The original Radiofonografo sported a turntable and radio in the main unit and a pair of loudspeakers. All the parts of the unit are in the same wonderfully pared down design and simple rounded square angular shapes in white, combined with round shapes in the speaker grill and knobs. The design is both minimal and retro at the same time, as well as charming.
Den ursprungliga Radiofonografon hade skivspelare och radio i huvudenheten och två högtalare. Alla delarna har samma underbart sparsmakade design och enkla avrundade fyrkantiga form i vitt, kombinerat med runda former i i högtalargallret och knoppar. Formgivningen är både minimalistisk och retro på samma gång, likaväl som riktigt charmig.
This centenary version of the Radiofonografo comes with the addition of an aux-connection as well as the possibility to connect an external subwoofer. Like the original, the loudspeaker can be placed in different ways – either on the sides, or on top of the main unit and thereby concealing the turntable. The Radiofonografo is placed on an aluminium stand so that it can be moved around, wherever you want to use it.
Hundraårsversionen av Radiofonografo har nytillskott i form av en aux-ingång och möjligheten att koppla in en extern baslåda. Liksom på originalet kan man placera högtalarna på olika sätt– antingen på kortsidorna eller ovanpå huvudenheten då man också döljer skivspelaren. Radiofonografon är monterad på ett aluminiumunderrede så den lätt kan flyttas runt, var man än vill ha den.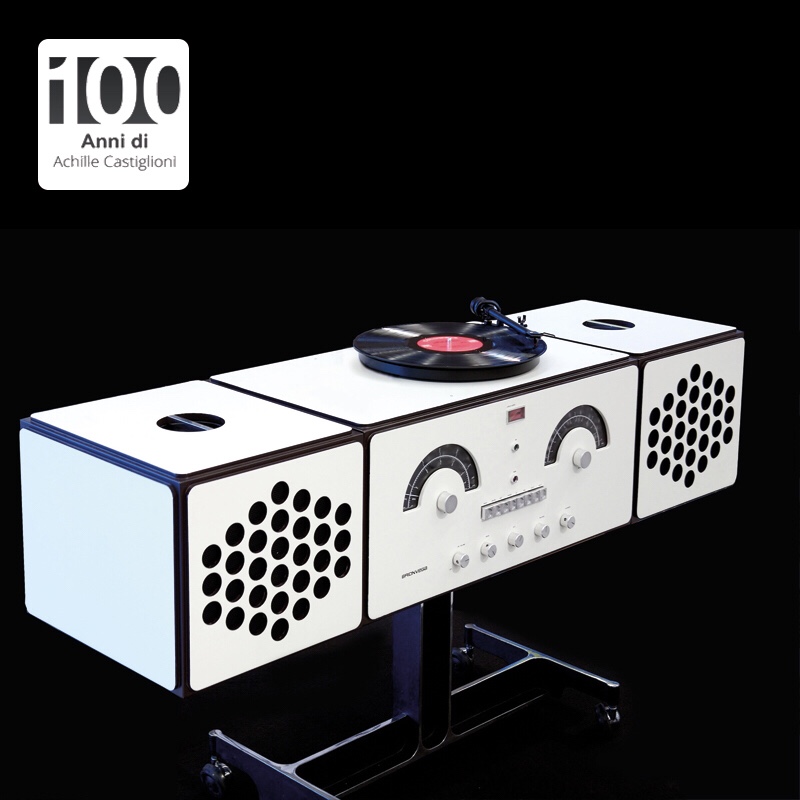 The Radiofonografo is, I must say, a really enduring design, a classic, that is no less appealing today than it must have been when it launched in 1965!
Jag måste verkligen säga att Radiofonografon är en hållbar klassiker som är tidlös – den är inte mindre lockande idag än den måste ha varit när den lanserades 1965!
All images come from Brionvega.
Alla bilder kommer från Brionvega.