Det har varit lite tyst på bloggen den sista tiden, när Corona pandemin bröt ut försvann lusten att blogga och det kändes som att det fanns viktigare saker i livet. Tid med nära och kära prioriterades och jobbet fick flytta hem. Vi skapade ett kontor i vardagsrummet i källaren till mig med dubbla skärmar och allt som jag behövde och det blev perfekt!
I am sorry about the absence here on the blog lately, the corona pandemic broke out and I felt like there was a lot more important things in life than blogging. To spend time with your loved ones and help those at risk was and is needed. I started to work from home and we created an office in our living room in our basement since my husband had the upstairs office. It became a perfect place to work with double screens and everything I needed.
Mitt kontor hemma i källaren. ❤️
My home office in the basement ❤️
Utsikten från mitt skrivbord.
The view from my desk.
Nu efter 11 veckor i mitt vackra kontor är det dags för 5 veckors semester och det ska bli så skönt. I höst blir det arbete på kontoret igen men troligtvis inte enbart, har jag möjligheten så kommer nog kontoret till användning även i höst.
Now I have been working from home 11 weeks in my beautiful office and it is time for summer vacation for 5 weeks. When I get back to work after the vacation it will be at the office again but I hope to be able to work from home from time to time.
Vi gick på en välbehövlig semester i torsdags och började med att fira min mans födelsedag med god mat, vin och presenter ute på terassen. Det var en sån ljum kväll att vi blev sittandes till halv tolv på kvällen. I fredags firade vi midsommar i vårt vackra brygghus! Det har tillkommit spegel, sänglampor och lite nya textilier till sängen och det blev så fint!
We went on a well needed vacation two days ago and we started by celebrating my husbands birthday with good food, great wine, presents out on our terrace. It was such a warm evening so we stayed outside almost to midnight. Friday celebrated we midsummer in our beautiful brewery house! It is the perfect place for that holiday! We got some new interior for this season and it was so nice to get it up!
Det blev svängbara vita lampor nymåne från IKEA, det är så praktiskt så man inte bländar varandra och det är dessutom inbyggd dimmer. Spegeln är också IKEA och kan vinklas ut från väggen på ena sidan, spegeln gjorde att rummet känns mycket större. Textilierna köpte jag på Jysk.
We got bed lamps in white from IKEA that you can move around on a arm so it is really practical and dimmable. The mirror is also white and you can fold one side out from the wall, it is also from IKEA. The mirror made the house look so much bigger! The textiles are from Jysk.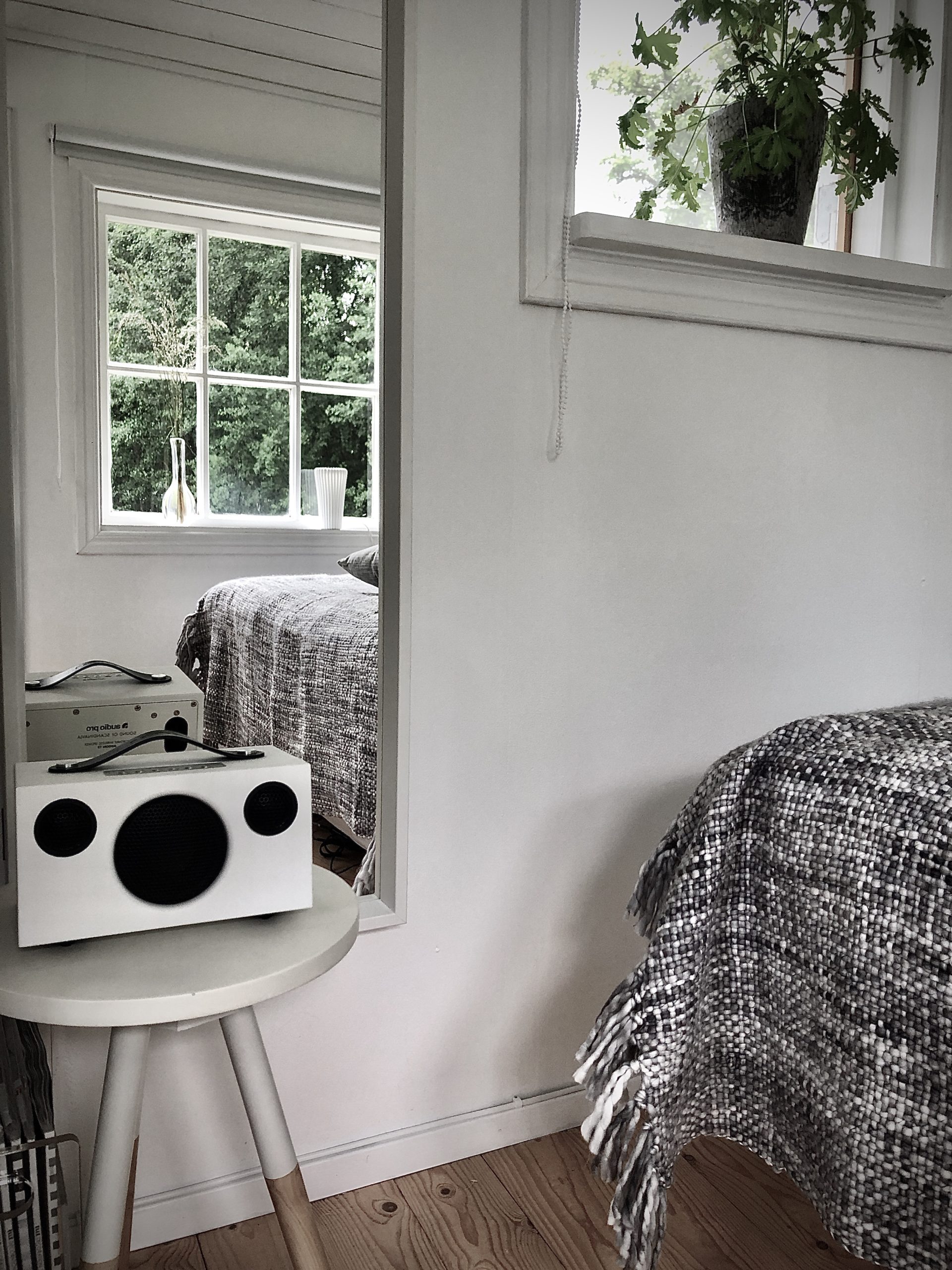 Midsommaraftonen firades med min stora familj utomhus med avstånd i gröngräset. Alla hade egen mat, dricka, tallrikar och bestick. Det är alltid mysigt att ses! Nu stannar vi ett tag i brygghuset då vi planerar för en hemester och eftersom den kommande veckan verkar innehålla strålande väder blir det nog bad, cykelturer, läsa böcker, laga och äta god mat, picknick och kanske någon loppis. Det kommer även att bloggas litegrann och jag hoppas att ni vill haka på ett tag till.
We celebrated midsummer with my family outside with a picnic due to the Corona pandemic. Everyone hade their own cutlery, plates, food and drinks and we sat every family on their own blankets. I was so nice to see everyone after so many months. We will be staying for a while in our brewery house since there will be no travels this year. The prognosis for the coming week shows a marvellous weather so I hope to go bathing, cycling, visit second hand stores, read books, cook and eat good food and go in picnics. I will also blog more now when I have the time.
Midsommarstång och vårt underbara brygghus.