The Swedish speaker manufacturer AudioPro has been in business for 40 years. It is celebrated by releasing a special model, not just a model with special styling or colour, as is quite common, but rather a model never before released. It is the AudioPro A40.
Den svenska högtalartillverkaren AudioPro har funnits i 40 år. Det firar de genom att släppa en speciell modell, inte bara en modell med lite ny styling eller en ny färg, utan en helt ny modell. Det är AudioPro A40.
Design-wise it differs from AudioPro's other models that usually look very much like speakers in that they display the speaker drivers and have clear boxy shapes. That is a look and design that I appreciate as it is clearly communicates the purpose of the object – that it is a loudspeaker.
Designmässigt skiljer den sig från de flesta andra av AudioPros modeller som verkligen brukar se ut som högtalare genom att de tydligt visar upp högtalarelementen och har en fyrkantig form. Det är en design och ett utseende som jag uppskattar eftersom den tydligt kommunicerar vad föremålet är – att det är en högtalare.
The A40 model brings another design expression that you also can see in the A10, that we wrote about recently. The anniversary model A40 is still boxy, however more rectangular and very flat, where many other speakers are fairly deep. It is standing raised slightly from the ground on aluminium legs that actually is an outer frame. The back and front of the speaker is clad in textile, either light or dark grey.
A40-modellen har en annan formgivning som man även kan se i A10, som vi skrev om nyligen. Jubileumsmodellen A40 är fortfarande fyrkantig, men är mer rektangulär och är väldigt platt, där många andra högtalare är djupa. Den är lyft en aning från foten och står i luften på aluminiumben, som faktiskt är en yttre ram. Framsidan och baksidan på högtalaren är klädda tyg, antingen ljus- eller mörkgrått.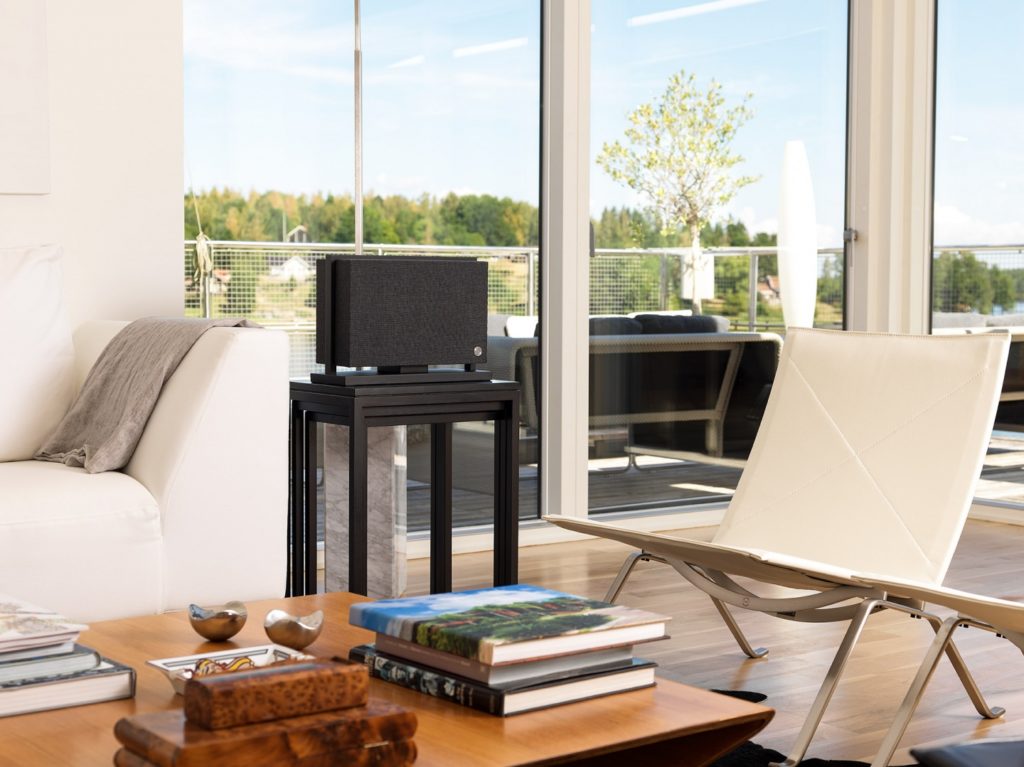 The construction with the outer aluminium frame, as I understand, reduces the vibrations from the speakers are more isolated so that they won't get transferred to the furniture or surface that the speaker is standing on.
Konstruktionen med den yttre aluminiumramen gör, som jag förstår det, att vibrationer från högtalaren är mer isolerade så att de inte förs vidare till den möbel eller den yta som högtalaren står på.
The A40s speaker array is symmetrical so on either side there is a woofer and two tweeters. There are also two passive elements to give really good low frequency response, bass, that is. The speaker array is driven by a powerful 220-watt amplifier. Along with that you also have the usual functions that AudioPro's speakers have, such as multi-room functionality, AirPlay, Spotify Connect, WiFi streaming, Bluetooth, and an aux-in.
Högtalaruppsättningen i A40 är symmetrisk, så på varje sida finns en två diskanter och en bashögtalare. Det finn också två passiva element som ger bättre skjuts i det låga registret, mer bas, alltså. Högtalarna drivs av en kraftig förstärkare på 220 watt. Det finns dessutom de vanliga funktionerna som AudioPros andra högtalare har, som multirumsuppspelning, AirPlay, Spotify Connect, Wifi-streaming, bluetooth och en 3,5-millimetersingång.
Now, this is what I call a real anniversary edition, not just an edition but an entirely new model, with an entirely new design. The question is, will we be seeing more of this design from AudioPro?
Det här är vad jag kallar en riktig jubileumsutgåva, inte bara en utgåva eller speciell version, utan en helt ny modell med ett helt nytt utseende. Frågan är, kommer vi att få se mer av den här designen från AudioPro?
All photos come from AudioPro.
Alla bilder kommer från AudioPro.