Sometimes there is an object or design that catches your attention and it ends up leading you again to something new. I noticed a lamp by the Spanish company Almerich, from the city Valencia, and it turned out that they had more to offer.
Ibland fångar ett föremål eller en design ens intresse och så leder det i slutänden till att man upptäcker något nytt. Jag lade märke till en lampa från det spanska företaget Almerich, från Valencia, och det visade sig att de hade mer att erbjuda.
The lamp that caught my attention was a really striking lamp called Moon. It comes in three versions, a table lamp, a floor lamp and a hanging lamp.
Lampan som väckte mitt intresse var en riktig snygg lampa som heter Moon. Den finns i tre versioner, en bordslampa, en golvlampa och en takpendel.
All three lamps are based around the relations of different celestial entities – planet, sun, and of course, moon. It has a striking geometric design and strangely balanced asymmetry, particularly the hanging lamp: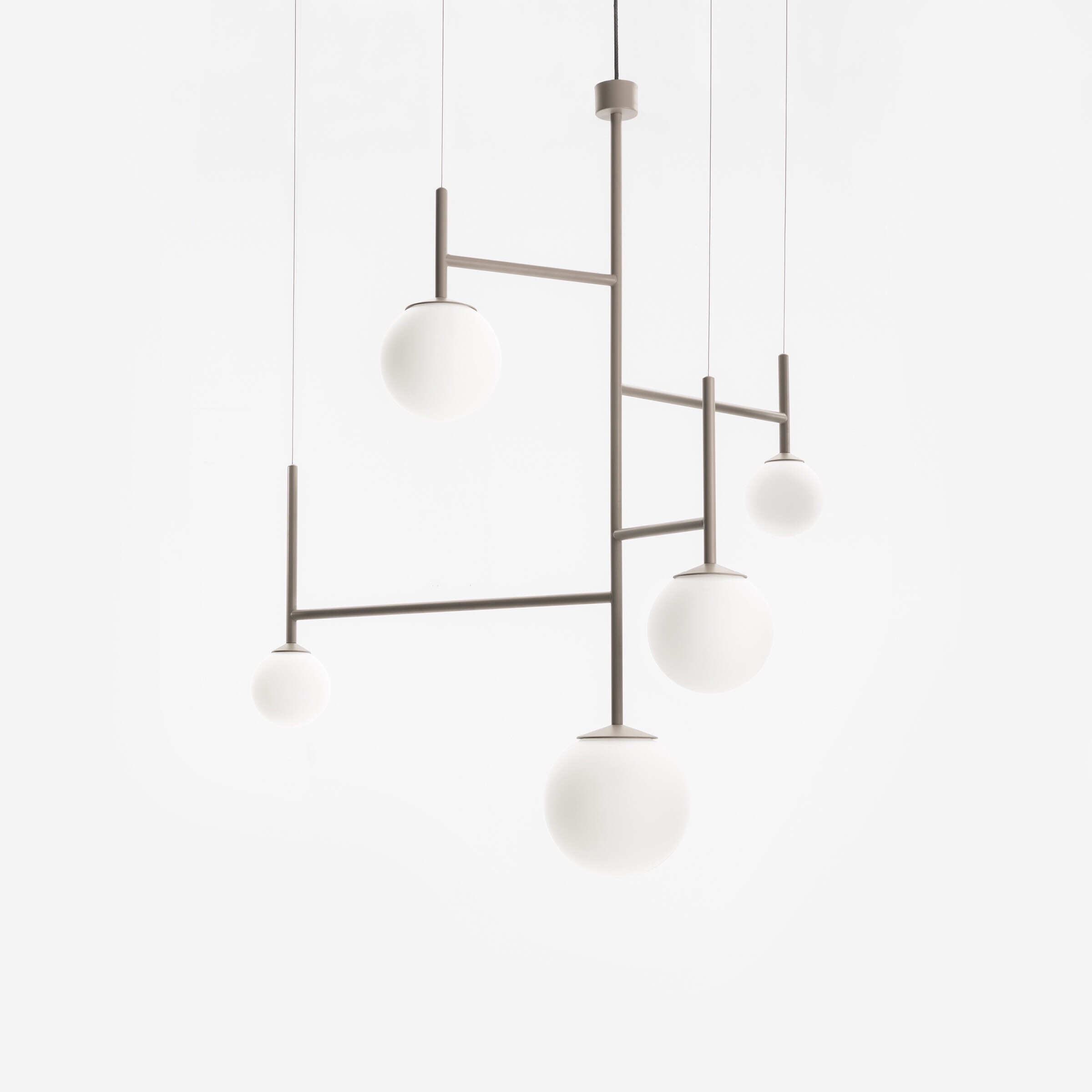 Alla tre lamporna baseras på relationen mellan olika himlakroppar – planet, sol och givetvis måne. Den har en skarpt geometrisk form och en märkligt balanserad asymmetrisk form, särskilt takpendeln.
The floor and table versions have the clever addition of a flat circular space. Some would perhaps see it as a small table, but it is of course mainly a reflecting surface that spreads and reflects the light from the lamps further.
Golv- och bordsversionerna har ett smart tillägg i form av en platt rund yta. En del skulle kanske se det som ett litet bord, men det är först och främst en reflekterande yta som sprider ljuset vidare.
I must say that the Moon lamps from Almerich really look great and I particularly like the hanging Moon lamp. Moon is designed by Agus Kim.
Jag måste säga att Moon-lamporna från Almerich är riktigt snygga och jag är särskilt förtjust i pendelversionen av Moon. Moon-lamporna är designade av Agus Kim.
But there was another lamp that I really liked, too, and that was the equally geometrically designed Coco:
Den andra lampan som jag verkligen gillade var den lika snygga och geometriskt designade Coco:
The lamp Coco is formed by a combination of the contours of a square and half dome. The lamp is designed by Estudio Savage. It comes in three versions, brass, chrome and black, apart from two sizes. The dome can be slightly adjusted to adjust the light and the lit void of the square can easily function as a display for smaller objects.
Lampan Coco består av en kombination av konturerna av en kub och en halv sfär. Lampan är designad av Estudio Savage. Den finns i tre varianter, mässing, krom eller svar, förutom två olika storlekar. Den halva sfären kan justeras något för att anpassas ljuset och det upplysta tomrummet i kuben kan användas för att visa upp vackra små föremål.
There we have it, two quite different lamps that still share a common ground in the pure geometrical lines.
Alltså, två ganska olika lampor men som ändå har en gemensam grund i de rena geometriska linjerna.
All images come from Almerich.
Alla bilder kommer från Almerich.