Vatten är så viktigt för oss, vi behöver det för att överleva och det gör djur och växter också. På våren förgror jag en hel del plantor; tomater, broccoli, paprika, chili och ibland även vissa blommor. Då har jag behov av en vattenkanna med en smal pip så att de små växterna inte dränks. Om vattenkannan dessutom ser snygg ut på bänken är ju bara positivt, här har jag tagit ut mina 8 favoriter.
Water is so important for us, we need it to survive as well as animals and plants. In spring I cultivate some plants indoors, like tomatoes, broccoli, peppers, chilli and some flowers. Then I have the need for a water can with a narrow pipe so that it doesn't drown the small fragile plants. If the water can looks great on the counter it is a plus, here are my 8 favourites.
Ett traditionellt utseende på en vattenkanna men med en modern känsla och vackra detaljer. Den är strikt och finns i naturella färger, den är tillverkad i polerat rostfritt stål och är designad av Flötz design och rymmer 1 liter vatten. Den heter Limbo och kommer från Blomus, den kostar 495kr hos Balkongshoppen.
A traditional look for a water can but with a contemporary touch and beautiful details. It is strict and available in three earthy colours, white, graphite and brown. It is made of polished stainless steel and contains 1 litre of water. It is called Limbo and is designed by Flötz design for Blomus, you can buy it at Balkongshoppen for 495 SEK.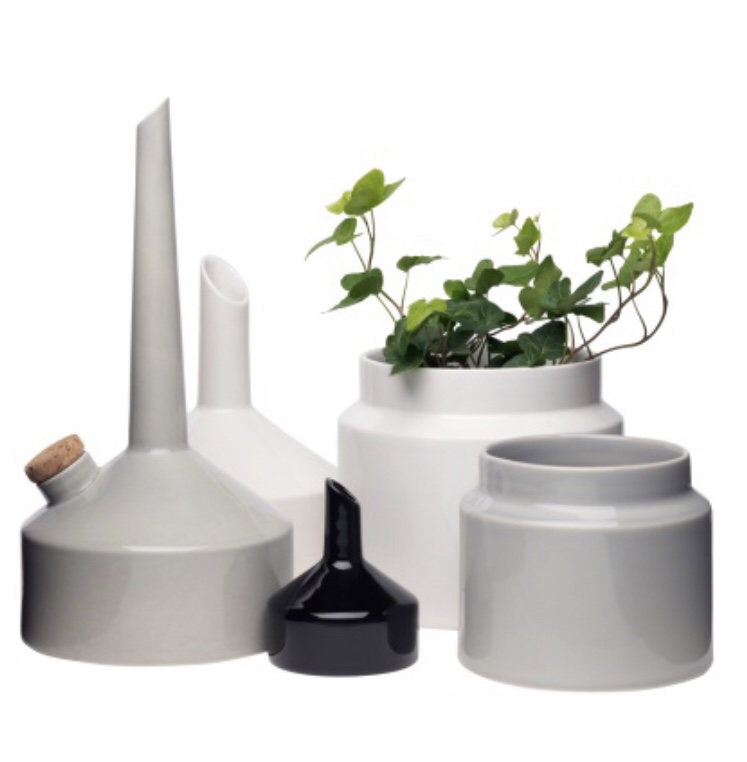 Både prydnad och vattenkanna i ett är den här fantastiska kannan i glaserat stengods av Kristina Stark. Har man hela serien med krukorna också blir det ju riktigt snyggt! Den finns att köpa Rum21 och kostar 575kr.
Both an interior accessory and a water can is this one in shiny ceramics designed by Kristina Stark. With the pots from the same collection it looks just amazing! It is available for 575 SEK at Rum21.
En originell och vacker vattenkanna som finns i flera olika metaller är Klongs Svante. Den fick jag av min bror för ett år sedan och den står alltid på köksbänken. Den är perfekt både att vattna plantor med eller hälla upp ett glas vatten till sig själv. Den är formgiven av Broberg & Ridderstråle och finns hos Rum21 för 875kr.
An original and beautiful water can is Svante from Klong that is available in many different metals. I got mine a year ago from my brother and it is always on my kitchen counter. It is perfect to water my small plants with or to pour myself a glass of water. It is designed by Broberg & Ridderstråle and is available for 875 SEK at Rum21.
Den här påminner mig om en lavemangsspruta från förr 😂 men är riktigt cool. Gummislangen för ju att du kan få vattnet precis där du vill ha det. Den rymmer 1,5 liter vatten och är tillverkad i polerat rostfritt stål. Den är designad av Pascal Charmolu för Born in Sweden, den finns hos Royal Design och kostar 599kr.
This reminds me of an old enema syringe 😂 but it is so cool! The rubber hose is perfect for getting the water exactly where you want it. It contains 1,5 litre of water and is manufactured in polished stainless steel. It is designed by Pascal Charmolu for Born in Sweden, it is available at Royal Design for 599 SEK.
En liten och smidig vattenkanna är Aquastar från Eva Solo, perfekt för de små krukorna. Den kostar 399kr hos Designonline.
A slim and small water can is Aquastar from Eva Solo, it is perfect for the small pots. You can buy it at Designonline for 399 SEK.
En stilig och vacker vattenkanna i metall är Vivero från AYTM, en klassiker som kommer vara lika snygg om 20 år. Vattenkannan rymmer 1,5 liter vatten och kostar 879kr hos Rum21.
A stylish and beautiful water can in metal is Vivero from AYTM, a classic design that will be just as beautiful in 20 years as it is now. The can contains 1,5 litre water and you can buy it at Rum21 for 879 SEK.
En liten vattenkanna med ett stort utseende är Aguo från Blomus. Den har stilen av en stor utomhuskanna men är för inomhusbruk, den är tillverkad i rostfritt stål och rymmer 1,4 liter. Kannan som är formgiven av Stotz design och finns att köpa hos Bara Design för 1159kr.
A small water can with a large look is Aguo from Blomus. It has the style of a large outdoors water can but contains only 1,4 litres of water and is made of stainless steel. It is designed by Stotz design and is available at Bara Design for 1159 SEK.
Enkelt är vackert, eller hur?! Den här vattenkannan i polerat rostfritt stål och rymmer 0,7 liter är helt underbar! Designen är så snygg och den gröna insidan mot det polerade stålet är en vacker och stilig kontrast. Den kostar 699kr och finns hos Presenter.se. Vilken är din favorit av de 8 kannorna?
Simple is beautiful, isn't it? This water can in polished stainlesssteel contains 0,7 litres and is gorgeous! The design is so sleek and the green inside against the polished steel is so stylish. It is available at Presenter.se for 699 SEK. Which one is your favourite of the 8 water cans?