With good design, one thing often leads to another. In this case I caught sight of the Danish company AYTM's gorgeous flower Globe pots that can be used both indoors and outdoors.
Med bra formgivning kan ofta det ena leda till det andra. I det här fallet råkade jag få syn på AYTMs otroligt snygga krukor i serien Globe som kan användas både inomhus och utomhus.
The Globe flower pot is available in sizes from from 17 to 43 centimetres in diameter, and in five really appealing yet understated colours. All versions have AYTM's typical stylish brass ring as a base.
Globe-krukorna finns i olika storlekar från 17 till 43 centimeter i diameter och alla finns i fem riktigt snygga men ändå diskreta färger. Alla varianter har den för AYTM typiska och snygga ringen i mässing som fungerar som krukans fot.
In one of the pictures of the Globe flower pot, I noticed a really beautiful lamp. It was the floor lamp in the Luceo series.
På en av bilderna på Globe-krukorna lade jag märke till en riktigt snygg lampa. Det var golvlampan i serien Luceo.
The Luceo lamp series comprises floor lamps, table lamps, pendants and wall lights. All are available in gold or black finishes and all versions have an addition in acrylic. What I really liked about the floor and the table lamps is that the acrylic mimics the shape of the lamp. In the case of the table and floor lamps the acrylic cylinder is placed on the base and can collect and disperse the light from above.
Lampserien Luceo kommer som golvlampa, bordslampa, pendel eller vägglampa. Alla versionerna finns i svart eller guldfärgad finish och oavsett färg har de en snygg detalj i plexi. Det jag tyckte var särskilt snyggt med golv- och bordslampan är att plexin verkligen återspeglar formen på lampan. På bords- och golvlampan är plexicylindern placerad på lampfoten och det gör att den reflekterar och sprider vidare ljuset som kommer uppifrån.
Next, I noticed the stool called Curva. It is made from bent thin metal rods and it is not entirely unlike Verner Panton's vinyl record stand. However, the Curva stool has an upward shape in the base. The Curva stool comes in either silver, gold or black finish.
Nästa föremål jag fastnade för är pallen Curva. Den är gjord av böjda metallstavar och är inte helt olika Verner Pantons ställ för vinylskivor. Pallen har däremot en uppåtgående form i sin bas. Curva finns i antingen silver-, guldfärgad eller svart ytbehandling.
Finally, far from the airy shape of the stool, my gaze fell on a far more compact object – a bowl made of marble. The Stilla bowl, has a drop shape, or rather a combination of a triangle that is added to a circle. Anyway, the shape is beautiful and stands out from most circular bowls. The marble gives it both a nice weight and a beautiful natural pattern.
Slutligen, långt från den luftiga pallen, fastnade jag för ett långt mer kompakt föremål – en marmorskål. Skålen Stilla är droppformad, eller kanske bara en kombination av en triangel ovanpå en cirkel. Hur som helst, det är en vacker form och den sticker ut från de vanliga runda skålarna. Marmorn ger skålen både en härlig tyngd och ett naturligt vackert mönster.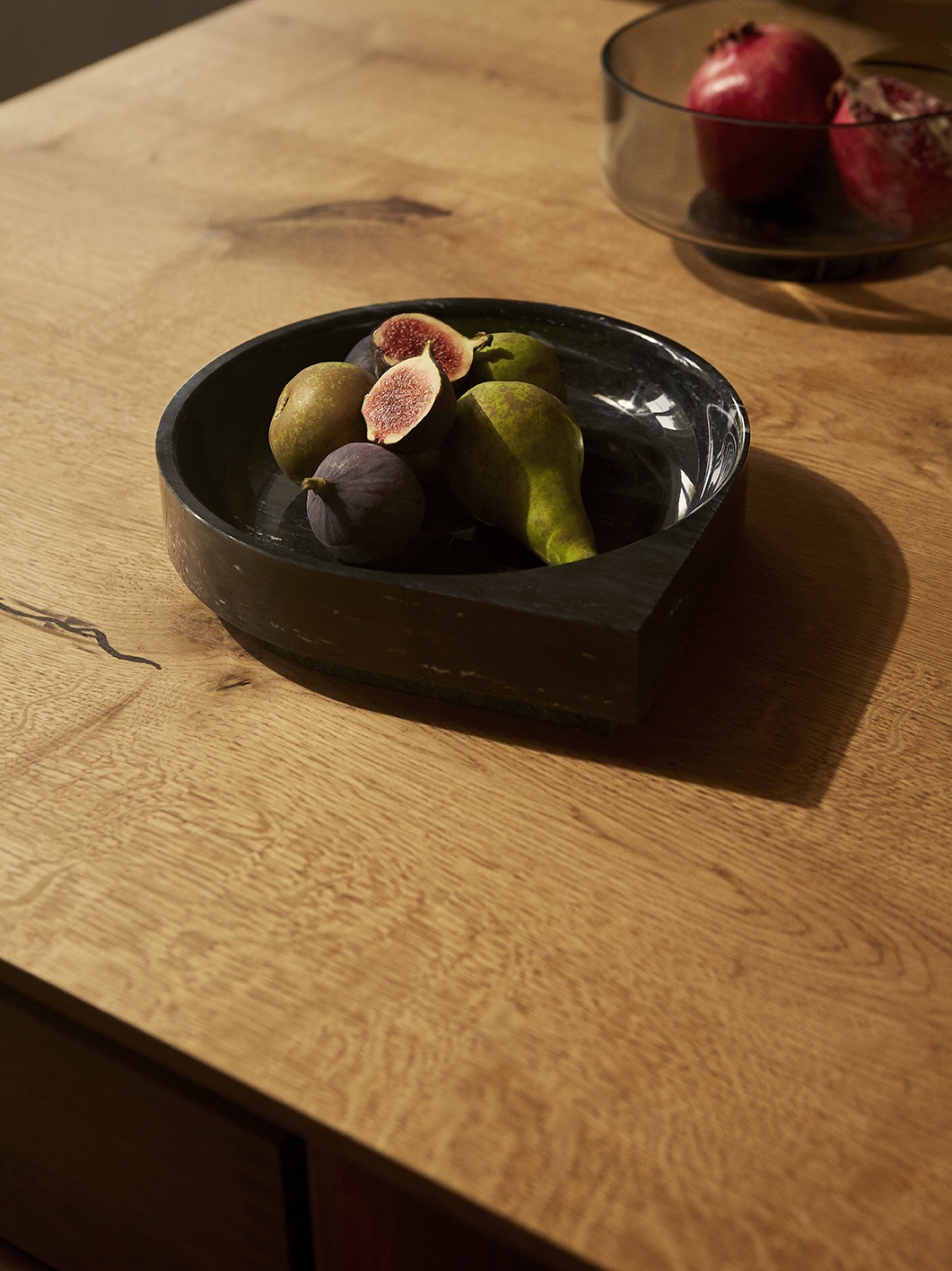 All photos come from AYTM.
Alla bilder kommer från AYTM.