Att duka till nyår eller fest är bland det roligaste jag vet. Eftersom vi är sex par som firar tillsammans varje år så blir det bara var sjätte år som jag får göra dukningen. I år blir det min kusin och hennes man som får det roliga uppdraget.
To set a beautiful table for The New Year's party or any party is something I love. We are six couples that celebrate New Year's Eve together every year so I only get to do it every sixth year. This year it will be my cousin and her husband's task.
Det som jag tänker på när jag ska duka är att det ska vara en snygg duk, servetter i tyg som hör ihop med duken är ju riktigt snyggt. Fint porslin, vackra bestick och handblåsta glas är ett måste och en massa levande ljus. En snygg bordsdekoration kan vara grenar och kottar från skogen likaväl som en dyr blomsteruppsättning från en florist. Pricken över i kan jag ändå tycka att de små personliga föremålen är. Det kan vara antika vackra salt och pepparkar, vackra och unika servettringar, udda detaljer som smörtaxar eller ärvda vackra glas.
What I think about when I want to create a beautiful table setting is to have a nice table cloth and matching napkins. I like nice sleek cutlery, classy beautiful plates and handmade crystal glasses. As table decorations I can use a lot of different things from time to time, branches from the forest or an expensive bouquet of flowers from the florist. I also had to have a lot of candles. Then I mix in some antiques like vintage salt and pepper containers, beautiful old napkin rings or a vintage crystal decanter or glasses.
Sådana detaljer hittar man ju lättas i antikaffärer eller på loppis, här har jag satt ihop vackra föremål till nyårsdukningen som går att köpa nytt online eller i butik som kan utgöra grunden till din dukning.
Such vintage beautiful items are found in antique stores or flea markets. I have put together some beautiful things that have the potential to enhance your table setting.
En snygg champagnekylare till nyår är ju riktigt snygg att ha när det är dags för antingen förrätten eller vid tolvslaget. Den här är i rostfritt stål och är tillverkad av WMF och heter Tavola och kostar 999kr hos Royaldesign.
A beautiful champagne cooler for New Years is really classy to serve the champagne in for the starter or to toast the new year at midnight. This is made of stainless steel from WMF and is called Tavola, it is available at RoyalDesign for 999 SEK.
Den här Champagnekylaren är mycket billigare men också riktigt snygg in sin klassiska form. Den är formgiven av Gense i rostfritt stål och finns hos RoyalDesign för 179kr.
This champagne cooler is less pricey but still beautiful in its classic design. It is also made of stainless steel from Gense and is available at RoyalDesign for 179 SEK.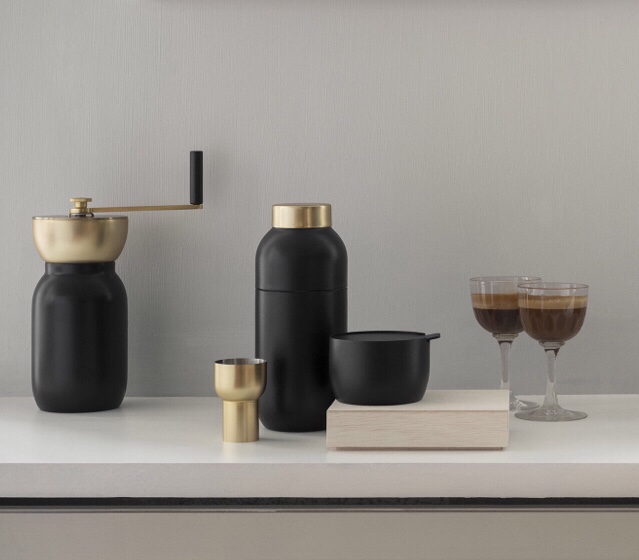 En välkomstdrink är ju trevligt att kunna blanda i en snygg shaker. Den här svarta i rostfritt med detaljer i mässingsbelagd stål är ju en riktig skönhet, det ingår även mätglas. Den kommer från Stelton och är formgiven av Daniel Debiasi och Fredrico Sandri och heter Collar och kostar just nu hos RoyalDesign 599kr.
A drink to welcome the guests is classy to blend in a nice shaker. This shaker called Collar is made of stainless steel with details in brass coated steel, it is a real beauty and a glass for measure is included. It is designed by Daniel Debiasi and Fredrick Sandri for Shelton and is available right now for 599 SEK at RoyalDesign.
En billigare och mer ordinär shaker är Costello i rostfritt stål från Dorre, men snygg ändå och ger ett snygg intryck. Den finns hos RoyalDesign för 215 kr.
A less pricey and more common in its design is Costello in stainless steel from Dorre. It will still give a professional and classy impression, though. It is available at RoyalDesign for 215 SEK.
En snygg duk är grunden till de flesta dukningar och den här mörkgrå i bomull från Hemtex är perfekt för det stora sällskapet. Duken är 140×350 och kostar just nu på rea 150kr.
A nice table cloth is the foundation for most table settings. This one in dark grey cotton is perfect for the larger party since it is 140×350 in size. It is available on sale at Hemtex for 150SEK.
En vit linneduk är vacker året runt och den här i tvättat linne är så vacker med sin småskrynkliga känsla. Den är också stor 140×350 och finns hos HM Home för 499kr och finns i tre färger till.
A white table cloth works all year around and this in washed linen is so beautiful and available in three more colours. It is also large in size, 140×350, and is available for 499 SEK at HM Home.
Ett snyggt porslin är riktigt kul att duka med, jag har min mammas vackra servis i vitt med guldkant från 60-talet som jag älskar. Den här servisen tycker jag påminner om den även om kanten är i platina och inte guld, den är riktigt stilren och snygg. Den heter Corona och är formgiven av Jonas Bohlin för Rörstrand och kostar just nu 189kr hos Kitchentime.
Beautiful plates are so nice to have when you are making a stylish table setting. I have plates that my parents have given me from the sixties that they bought when they got married. They are white with a golden line along the edge and I love it! These plates remind me of that one even though the lines here are in platinum, they are called Corona and are designed by Jonas Bohlin for Rörstrand. They are available on sale at KitchenTime for 189 SEK.
Det är snyggt att matcha besticken med kanten eller mönstringen i tallrikarna och nu finns det ju flera färger att välja mellan, rostfritt, guld eller svart. Tvi i titaniumöverdraget rostfritt stål från Broste Copenhagen är en personlig favorit. De finns även i svart och kostar för ett 4-pack just nu 439kr hos DesignOnline.
It is really nice to match the cutlery with the lining or pattern on the plates. Now you can choose from chrome, golden or black. Tvi is a set of cutlery in titanium coated stainless steel from Broste Copenhagen and they are my personal favourite. They are available in black and golden and for a set of 4 they are on sale at DesignOnline for 439 SEK.
Om ni vill ha ett enkelt men snyggt champagneglas så kan Leonardo vara ett bra alternativ, det finns just nu hos Kökets Favoriter för 49kr.
If you want a simple but beautiful champagne glass then Leonardo might be the one. It is available now on sale at Kökets Favoriter for 49 SEK.
Snyggast är väl ändå de vackra handblåsta champagneglasen från våra svenska glasbruk. Det här är Salut som är formgivna av Simon Gate. Håll utkik på loppisar, antikaffärer, auktioner och nätbutiker. De är lite dyrare men det är värt priset, de förlorar inte i värde och de håller sig vackra i många år.
Handmade old champagne glasses from our Swedish glass factories are the most beautiful, in my opinion. This is Salut designed by Simon Gate and they are gorgeous! Keep a look out for vintage glass at flea markets, antique stores, auctions or online vintage stores. They cost a little bit more but they will keep their value and be beautiful for many many years.